Introducing the 5s
Integrated Storage System
Built for technicians. Designed for service.
Matco's 5s Integrated Storage System has the components, the quality, the customization and service you need to satisfy your technicians, your customers and your bottom line. Tried and tested by service professionals for more than 60 years, Matco 5s ISS is an innovative, customizable tool cabinet solution to store tools and equipment while increasing aftermarket sales through productivity, efficiency, customer loyalty and satisfaction.
The Matco 5s Integrated Storage System. Five more ways to increase success for your business.
Service
With more than 60 years in the business, our storage solution experts are personally invested in your project, from customization to design implementation and installation, you can count on Matco's service and support.
Selection
Matco is all about the options when creating a workspace that works for you. Have a unique idea for your space? We have the flexibility to custom design a component especially for you - tool organizers at its best. Whatever you need, consider it done.
Strength
Looking for a good tool storage cabinet? How about a great one? Good enough isn't good enough for us. With construction like the Matco 5s ISS, you're looking at a system that is ready to face the every day torture test of a hardworking service center.
Sustainability
Matco builds the 5s integrated system for flexibility and our sustainable design means nothing is bolted to the floor or the walls. You can reconfigure or add pieces at any time. This flexibility makes for great garage tool cabinets.
Signature Style
With more than 20 color and trim options you can personalize your workspace for branded and lasting experience. That's right, your tool cabinets come in style.
Video Showcase
Learn why your tool storage system might be your most important tool in your service center.
Testimonials
"
When Gillette College started designing our new state of the art Technical Education facility we knew that we wanted a tool storage system that would set us apart..." read more
Travis Grubb
Gillette College
Diesel Technology Instructor
"
It was an easy choice when we learned about the quality of Matco's products and what they could offer." read more
Bill Wagener
Knauz Autopark Mercedes-Benz
Fixed Operations Director
Please enter your information below. Each field marked with an asterisk (*) is required.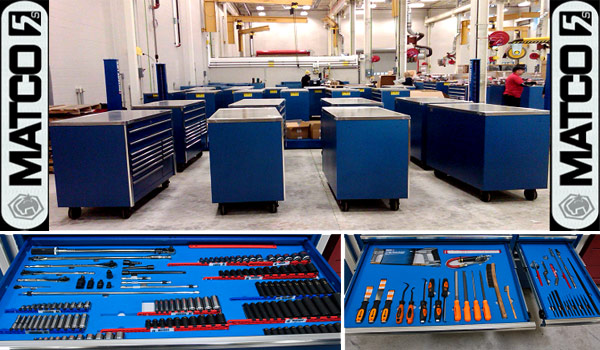 5S STORAGE SOLUTIONS: GILLETTE COLLEGE
"When Gillette College started designing our new state of the art Technical Education facility we knew that we wanted a tool storage system that would set us apart from any other tech school in the nation. Matco Tools came up with an exceptional arrangement of storage cabinets and tool boxes. Matco Tools was great to work with they came to the facility twice during construction to ensure that the storage system we had planned out would fulfill our needs and not interfere with any other equipment."
"I was amazed that all 36 tool boxes and 28 storage cabinets arrived with no damage and no back orders! The 5S toolboxes and storage cabinets and stainless steel tops look remarkable in our Diesel Lab, which showcases our desire to provide professional training to our students. Tool control is extremely important in the industry. Matco incorporated laser cut foam in all the tool boxes, the foam has greatly reduced tool loss and saved hours of work inventorying boxes. Gillette College has been totally satisfied with the quality products and professional team that Matco has provided us."
Travis Grubb, Gillette College Diesel Technology Instructor