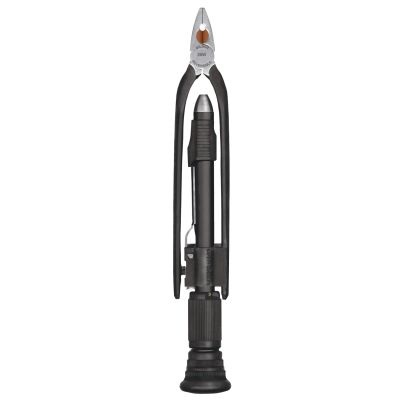 25W6 IN REVERSIBLE PLIER
25W 6 IN REVERSIBLE PLIER - Features & Benefits
Reversible action for left and right twists.
Cushion throat holds clipped wire - No Foreign Object Damage (FOD).
Automatic spring return.
6 IN REVERSIBLE PLIER
9
9
Awesome
Absolutely awesome! Perfect size for all jobs. Highly recommended.
April 29, 2013
Safety Wire Pliers
Look well made, but the plastic twister does seem somewhat fragile. Only time will tell if they will last... Other than that, quailty built tool!
January 8, 2013
I was let down... but....
I bought these pliers expecting them to be great long lasting pliers for being my first pair. I had to get used to them, I did not like the cheap plastic components on it at all, but after only 4 months of intermittent use they failed and would not stay clampped on any safety wire at all. They were useless. Milbar makes these, and so I sent it in to them for a warranty clain and they covered it. I wont get another though. I'm going to opt for something different. I would like to see them continue producing the old tiger wave jaw twisters; because this pair came with razor sharp jaws/teeth that cut right into stainless safety wire. I don't recommend them. I am a A&P Aircraft mechanic
September 17, 2012
Great set of pliers
I am glad Matco started selling these finally. These pliers are the industry standard when it comes to safety wire pliers. I have had mine for almost 10 years, no complaints. Plus my safeties look sexy!
March 20, 2012
Great time saver
During both my internship and my schooling as an aircraft mechanic, I have found these tools to be a great time saver. Twisting safety wire is more consistent and much faster using these pliers than working by hand. I highly recommend them.
December 29, 2011
Excellent product
Excellent quality, use it everyday, couldnt be happier
January 1, 2012
GREAT TOOL!!!
This was one of my best Matco tool purchases ever made! The simplicity and innovative design allowed me to complete my jobs in record timing while achieving a professional appearance in my finished work. Highly recommended!
October 30, 2011
Great!!!
The best safety wire pliers i've used and really like the reversible feature
October 4, 2011