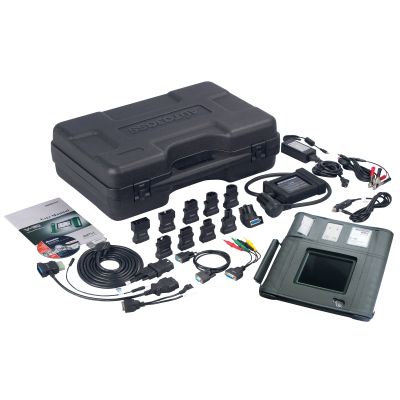 3100PRO-TIAUTOBOSS DIAGNOSTIC SYSTEM TRADE-IN KIT
3100PRO-TI AUTOBOSS DIAGNOSTIC SYSTEM TRADE-IN KIT - Features & Benefits
Diagnostic system with Trade-In coupon includes global European, global Asian and Chinese software.
Includes: Accessories, Carrying Case, Power Supply, SD Card Reader, Rubber Boot, Printer and Protective Cover.
Vehicle Cable Set OBD II Adapters, European OEM OBD I Adapters, Asian OEM OBD I Adapters, USA GM OBD I Adapters and Chinese OEM Adapters.
Also includes AutoBoss Trade-in Coupon --- Buy 3100PRO-TI and sendany other professional diagnostic scan tool. (No Code Readers).to redeem this offer. Free AutoData DVD and extended 1-year Internet Subscription for AutoBoss.