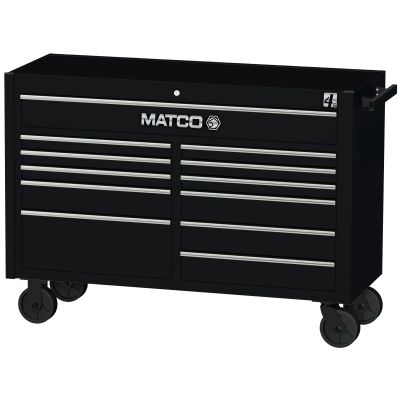 4222R-BC4s 2BAY 22" ROLLAWAY BLK/CHM
4222R-BC 4s 2BAY 22" ROLLAWAY BLK/CHM - Features & Benefits
Features heavy-duty 6" casters rated at 600lbs. per caster.
Heavy-duty roller bearing slides rated at 140lbs.
Security Tubular Locking System.
Storage capacity: 21,492 cu. in.; 6,142 sq. in.
Includes laminated particle top board and regular drawer liners.
Dimensions: height 40-5/8", width 55-13/16", depth 21-5/8"
4s 2BAY 22'' ROLLAWAY BLK/CHM
13
13
Thee best
I actually have the 6225r-very, but these are very similar. Very reliable and super easy to maintain and keep organized. Highly recommended!
December 2, 2011
Great Box
Just a great box! Love it! Use it everyday. Can't wait to add 2 side lockers to it!
December 7, 2011
Great tool box for the shop or at the home garage use.
This is a great tool box to keep all tools in order at your garage at home, for those mechanics whom like to work from their home as well, or it could be a great start tool box for our new mechanics coming into this field. The price is great for all the room and quality of this great tool box!!!
September 12, 2011
Looks great
This was an excellent buy for the money. It is real easy to keep clean. The only downfall is the top drawer could use double slides to hold more weight.
September 7, 2011
matco toolbox 4s
this toolbox was much more than i expected. it is a decent size for a tech who is getting started in the automotive field.
September 1, 2011