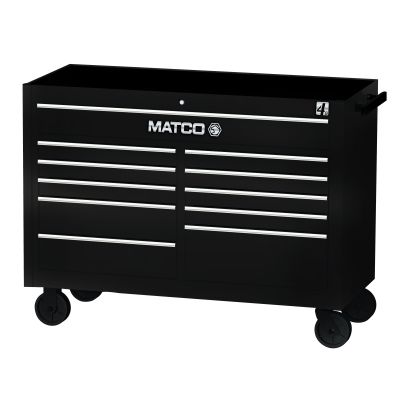 4225R-BC4S DOUBLE BAY 25" TOOL BOX BLACK PAINT W/ CHROME TRIM
4225R-BC 4S DOUBLE BAY 25" TOOL BOX BLACK PAINT W/ CHROME TRIM
Features & Benefits
Features heavy-duty 6" casters rated at 600lbs. per caster.
Heavy-duty roller bearing slides rated at 140lbs. per pair.
Security Tubular Locking System.
Includes laminated particle top board and premium drawer liners.
Storage capacity: 25,727 cu. in.; 6,432 sq. in.
Dimensions: height 42-1/4", width 55-27/32", depth 24-5/8"
Color: Outlaw Black with Chrome Handles
Return Policy *
Return for refund within: 30 days
Return for replacement within: 30 days
* Applies to purchases made on matcotools.com only; see your Matco distributor for warranty or return information on purchases made elsewhere.
4S DOUBLE BAY 25'' TOOL BOX BLACK PAINT W/ CHROME TRIM
27
27
Almost the Perfect Box!
I absolutely love this box. I got mine at Student pricing and am very glad I didn't buy the other guys slightly smaller box. I am 6'2" so the extra the extra height is absolutely awesome. I got the gloss black and chrome it is really nice looking almost bordering on wow. I am also a diesel tractor mechanic our shop floor is shot and this box has no problem rolling over the craters in our floor. The drawer slides and locks work great, you do have to adjust the locks for the amount of weight that's in them then the are great. Also this is not a 6s do not expect to put 400 pounds in each drawer. The only draw backs I have is the layout of the drawers and the wheel locks. I have some large wrenches and prybars that do not fit with the the split down the middle. I would much rather have a offset split so there are wider drawers on one side like the more expensive boxes. As for the casters they roll much better than the other guys especially in the shop I work at, but my big ole steel toes cannot really get to the locks. They really need to invent a better locking mechanism, that hundred year old lock is not good enough. I could actually use a slightly larger box but I don't want one because it would not be practical. Instead I have a craftsmen 8-drawer chest on top to hold screwdrivers pliers and smaller sockets. All in all besides like four tools not fitting I love this box!
August 10, 2013
More than expected
I got this 4s to replace my triple stack Craftsman box I had from college when I started working for Honda since I needed more room with all the tools I realized I needed, plus I like the fact I have work space on top and a place to lay my chargers for my flashlight, electric impact, etc. At first when I started swapping my tools over I thought it wasn't going to be enough room but then after getting some organizers I found that I have over 2 drawers of empty space to fill with extra stuff I may need down the road. Awesome box, very very sturdy, and I love the flat black finish I have even though it takes more to clean than the traditional glass finish.
January 1, 2012
this product is a work horse an some
I have owned the 4 for about six month's now. This tool box is a blessing it has great storage an with the smoothest opening an closing drawer's of any tool box an the drawer's are so sturdy an strong that it's unreal.
July 21, 2012
This box is great
I bought this box last April after having a snap-on box for many years,I would recommend this box over snap-on any day. It is very strongly built and I have had no trouble what so ever from this box and I believe I will have this box for a long long time and would recommend this box to anyone.
October 21, 2011
Dependable Box
I bought this box when a was in school 4 years ago and have watched it fill up with tools. I love the amount of room it has and the drawers are very well built. The 4 guys i work with all have snap on boxes and this one is just as good if not better in all ways.
December 2, 2011
Great rollaway for the money, you wont beat it.
I got the silvervein powdercoat on mine and love it. Box always looks great even at the end of the week before I wax it. Drawer slides and detents always preform flawless. I would put the quality of this build up against a competitors $6k box. I really enjoy it that much.
September 17, 2011
Great Box!!!!!!
Ive had this box about six months and I love it would recommend to anyone much more bang for your buck than snap-on
March 12, 2012
perfect craftsmenship!!!!
BOUGHT THIS BOX 2 YEARS AGO. LOVE IT TO DEATH WOULD TAKE A MATCO BOX ANY DAY OVER A SNAP-ON. LOVE THE DESIGN OF THE BOX AND HOW EXTREMELY STURDY IT IS. HIGHLY RECOMMEND THIS BOX TO ANYONE LOOKING FOR GOOD QUALITY FOR A GREAT PRICE.....
October 5, 2011
Tool box is a great choose for the money
I bought mine when I started turning wrenches 7 years ago this thing holds up great and I personally like it better them my top of the line snap on box that I bought also. The draws seem to be alot heavier built
November 14, 2011
Great toolbox
I work in the aviation field and needed a string dependable box. This thing has far exceeded my expectations. It's great bang for the buck
November 14, 2011
Great box but wish the bays weren't 50/50 split
I love this box but wish it wasn't a 50/50 split but I also didn't know it would matter that much when i bought it.
November 17, 2011
great but
turst me i love my tool box but thers a few things i would want better. better top, and hutch is too short i hit my head 2 times a day and im only 6ft
September 16, 2011
GREAT TOOL BOX FOR THE PRICE
MY MATCO TOOL DIST. IS THE SHIZNIZZLE HE ALWAYS HAS THE TOOL I NEED AT THE TIME AND HE WILL EVEN COME BACK TO THE SHOP IF WE NEED ANOTHER TOOL
August 31, 2011
Best toolbox for the money.
I bought this toolbox when I started out. It has great storage space. Color options are great. Spend way less than a snap on box.
September 2, 2011
Great tool box
Excellent tool box, it's the perfect box for starting out, great price and plenty of space!
September 21, 2011
great box
The best tool box i had so far lots of space a great starter
October 22, 2011
The best box for the job
I have had the box for 3 years and couldnt do it with out it
September 26, 2011
This Is The Best Tool Box On The Market
Awesome Tool Box. And I'm Very Pleased With It And The Hutch I Purchased..
September 4, 2011
Great Starter Tool Box
Plenty of Storage to get your feet wet with basic tool storage
September 6, 2011