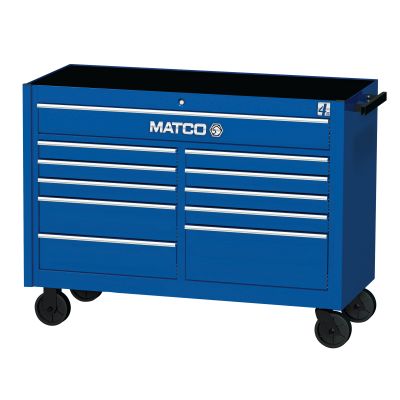 4225R-DBC4S DOUBLE BAY 25" TOOL BOX SAPPHIRE BLUE PAINT W/ CHROME TRIM
4225R-DBC 4S DOUBLE BAY 25" TOOL BOX SAPPHIRE BLUE PAINT W/ CHROME TRIM - Features & Benefits
Features heavy-duty 6" casters rated at 600lbs. per caster.
Heavy-duty roller bearing slides rated at 140lbs. per pair.
Security Tubular Locking System.
Includes laminated particle top board and premium drawer liners.
Storage capacity: 25,727 cu. in.; 6,432 sq. in.
Dimensions: height 42-1/4", width 55-27/32", depth 24-5/8"
Color: Sapphire Blue with Chrome Handles
4S DOUBLE BAY 25'' TOOL BOX SAPPHIRE BLUE PAINT W/ CHROME TRIM
11
11
Best box on market
MADE IN USA!!! as my certificate states built on the day I ordered this box. quality if far superior than Snap-On layout of the drawers are fantastic, I say that because tools that I have accumulated over the years out grew the snapon box and now this matco box has ample space for all the tools and space left for more! they key/lock mech is quite nice. I will be looking forward to a 6s in the near future.
April 17, 2013
GREAT BANG FOR THE BUCK
Great box good use of space. Great work surface and American made!!!!
April 13, 2013
would never get a nuther one
I got this box in 2009 I have had nuthing but trouble with the slides the locks to keep it shut when you move it bust all the time and then you have to change the hole slides yes they are warranty but what a pain have to remove all the tools to get them out and they bust all the time have to lock the box to move it or the drawas will all open up when moveing it I have repalced them many time and just give up on them.I am thinking of a new box and it will not be a matco box if they are all this bad. the box is ok if you are just geting started When I got it I thought it would be big a nuff but after I got my tools in it it was not.Some one jsut out of teck school would be big a nuff for them but after a few years you will out grow this box.I sould have got a lot biger box.
January 16, 2013
just bought
I love this box.it is so versatile and comes with more than enough room for a forth year mechanic . A lways bought Matco and this was the best yet.keep em coming!!!
September 21, 2012
matco quality and design is second to none
owned double bay box for 10 years never had problems or repaired box slides nice after 10 years of dealership service and quality is excellent paint is very durable no other box on the market could match up to the matco design i would highly recommend this product to anyone in maintance field
December 23, 2011
Best built box!
I had bought many box's over the years trying to find my fit. I had looked at Snap-on and Mac tools and nothing really stuck out to my eye about their box's. Matco Man pulled talked to me about their box's and the deal they had going on. Thought about it for a two week's and bought it off truck. Great box! Very Nice drawers! And paint job. Enough room to get you started thinking about your next Matco box.
September 30, 2011
Love it!
Great box at a great price! More than enough room for all my tools with some growing room! Would definitely buy again
January 11, 2012
top of the line.
i have a matco 4s doubble bay box. sublime green with black trim. one of the best investments i have ever made. holds all my matco tools and every time some one walks into the shop it turns heads.
December 18, 2011