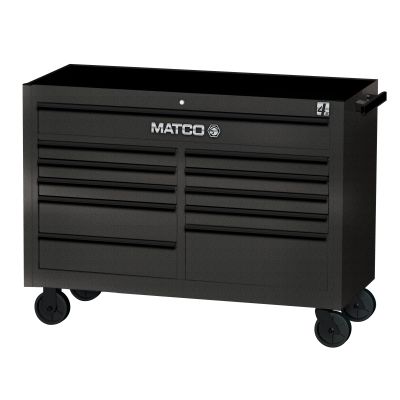 4225R-SVB4S DOUBLE BAY 25" TOOL BOX SILVER VEIN PAINT W/ BLACK HANDLE TRIM
4225R-SVB 4S DOUBLE BAY 25" TOOL BOX SILVER VEIN PAINT W/ BLACK HANDLE TRIM
Features & Benefits
Features heavy-duty 6" casters rated at 600lbs. per caster
Heavy-duty roller bearing slides rated at 140lbs. per pair
Security TuBar Locking System.
Includes laminated particle top board and premium drawer liners.
Storage capacity: 25,727 cu. in.; 6,432 sq. in.
Dimensions: height 42-1/4", width 55-27/32", depth 24-5/8"
Color: Silver Vein with Black handles
Return Policy
Return for refund within: 30 days
Return for replacement within: 30 days
4S DOUBLE BAY 25'' TOOL BOX SILVER VEIN PAINT W/ BLACK HANDLE TRIM
8
8
Just right
I bought this box as an upgrade to my stand up box, a great buy! Fits all my tools and looks great,easy to keep clean, and I still have room for more tools
December 9, 2011
this is the best toolbox
this is the best tool box you can get compare to snapon and the other ones this tool box is the best i will advice any person want to get a tool box to get thisone
September 26, 2011
Almost perfect, but needs a better handle.
Matco got this box almost perfect. The handle on the side is cheaply made and I can bend the brackets with my hands. Unlike the service cart, which is far lighter, but has a huge over sided beefy side handle. Thats it everything else is great on the box.
October 10, 2012
Best box for your money
This is a great box I've had it for a few months got it used and it's only about a year old. Good storage and durable as it gets I can literally pull the drawl out jump up and sit on it with out a budge still rolls smooth not a problem with it.
December 31, 2011
Great Box For the price
I've had mine for a little over 2 1/2 years.It is a great tool box for the pro Tech.The only problem was that 2 of the drawer slider detents broke,but they still function and I am still very pleased with this tool box,Id definitely buy it again
November 14, 2011
THIS IS A GRAET PRODUCT
MY TOOLBOX HAS BEEN THRU ALOT IT WHENT THRU A GARAGE FIRE AND IS STILL IN USE OF COURSE I HAD IT REPAINTED BUT EVEERY THING INSIDE IT IS ORIGINALSO I WOULD SAY THESE BOXES ARE DEFINTLY BUILT TTO LAST
October 24, 2011
i have matco 4 in red works very well and the they open smoooth and have no problems at all love it
Works good opens like a dream no sticks no binds smooth opening and closing .
October 11, 2011
I have the lime green
This is a good Box to start with you may not ever need a larger one.
October 9, 2011