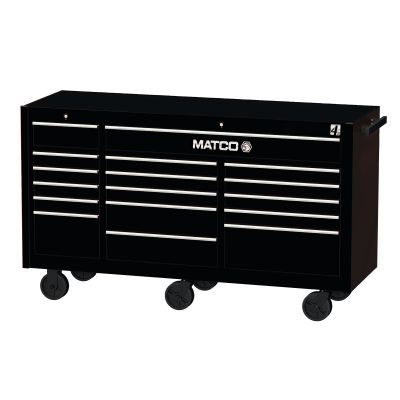 4325R-BC4S TRIPLE BAY 25" TOOL BOX BLACK PAINT W/ CHROME TRIM
4325R-BC 4S TRIPLE BAY 25" TOOL BOX BLACK PAINT W/ CHROME TRIM
Features & Benefits
Features heavy-duty 6" casters rated at 600lbs. per caster.
Heavy-duty roller bearing slides rated at 140lbs. per pair.
Security Tubular Locking System.
Includes laminated particle top board and premium drawer liners.
Storage capacity: 33,114 cu. in.; 8,293 sq. in.
Dimensions: height 42-1/4", width 72-1/8", depth 24-5/8"
Color: Outlaw Black with Chrome Handles
Return Policy *
Return for refund within: 30 days
Return for replacement within: 30 days
* Applies to purchases made on matcotools.com only; see your Matco distributor for warranty or return information on purchases made elsewhere.
4S TRIPLE BAY 25'' TOOL BOX BLACK PAINT W/ CHROME TRIM
53
53
this product is not to great
bought this box with a side locker and a stainless steal top. all the draws are pealing dont stay shut locks keep breaking. side locker is starting to lean after only a year. also paint chips too easy looking to trade in also had to buy a diff set of draw liners due to the ones that came with it would slide every time i would shut my box and most of the draws are either too shallow or too deep. if i had the to do it over i would of either went with a 6 or stayed with snap on
December 21, 2011
flat black 3 bay 4s
i bought mine in feb. it was a very nice up grade and affordable payments. the draw locking system is better then those with plasic locks built into the handles. built tough and handles very day use. the flat black color is sweet, i'm told a lot of times it is the best looking box in the shop. every thing about this box is well designed, all the way to the top front angle lip that allows you to slide things off the top
October 22, 2011
a step above the rest
this toolbox is a great example of industrial grade tool storage. its rugged, durable and never fails. the drawers can hold a bunch and so can the castors. you load this pig full of tools its like you driving a bus! unreal. so glad i bought this beast, well worth the money!
September 8, 2011
quality unit
As my first box this matco triple bay is exactly what i needed. With matco's student discount i got this 72" box for less then what my co-workers paid for a snap on 54". The quality of this boxes construction is unrivialed by any other brand and shows how rugged it is with its 1100 lbs wieght. The lower right drawer is strong enough to to support 50 lbs of tools as well as me, and im no light wieght! overall id buy another one if i had the chance and i encourage anyone on the fence to crossover into the world of matco
December 21, 2011
looks pretty not functional
bought this good looking box only to find out nothing fit in it. drawer widths are too narrow the only drawer that fits any thing in it is the top drawer and then it has a divider in it that gets in the way as well. screwdrivers, prybars, breakerbars, extensions ect. doesn't fit unless you put it diagonally. very unhappy.
September 9, 2011
Can't justify price for what you actually get.
I have had this toolbox for almost 3 months and I'm not too keen on it. I traded in a 42" harbor freight toolbox with a side cabinet and top chest for this box mainly because of the brand name and supposed quality, also with room to grow, and in my opinion I was wrong. The top piece is very brittle and has already started flaking apart. The drawer options do not suit my needs as far as storage, I do wish at least 2 of them were full length like the top drawer. The height of the box is also very short, just about waist high, so you have to bend over constantly to get into the last 4 bottom drawers. My Matco representative told me to keep the box on the palet it was delivered on. The casters wobble with the brakes fully locked, and they feel very flimsy in construction. I have the top drawer loaded with sockets, nowhere near the maximum weight it can hold, and yet when I close the drawer it wobbles side to side. A few of the side drawers are very difficult to open even on the lowest setting and after I greased the slides. They snap open and snap shut, my harbor freight box opened and shut smoothly everytime. The drawers dent and scratch very easily, I went to wipe off some bearing grease on the side of it, and there are noticeable swirl marks on it. I know this is the "entry level" tool box so to say, but for $6000 I would expect a little more. Another problem being that I bought this box to expand, I have already filled this up and really have no room in it anymore. What are my options? Buy the matching top and spend another $4000? Or a locker for $3000? I cannot justify this. I wouldn't reccomend this to someone just because it's the most "affordable" box on the market for the size. The quality just isn't there. Seems like it would be more money than it's worth to accessorize this for anyone's needs. That's my opinion.
April 14, 2012
cheap drawer liners good box
Great box very happy with it. Very disapionted w/ drawer liners. Paid 140.00 to upgrade to the good ones a few months ago when I bought it, still haven't gotten the correct top drawer liner for this yet. The top on this thing is super cheap. Wish the stainless top was not 1k. But I do love the box. Have always been an avid snap on customer when it comes to boxes. Hope he liners get fixed soon.
March 17, 2012
good box bad sales man
i like the box ( a little small for what i need tho)bought it the first time our new sales man came to the shop, had a good deal worked out just to have him quit and lost the trade in on my craftsman and the freebees that were "promised" get it in writing next time. just hope we'll get a GOOD matco man someday and trade up to a 6s 4 bay! but all in all the box is worth the price and a real good looker
April 10, 2013