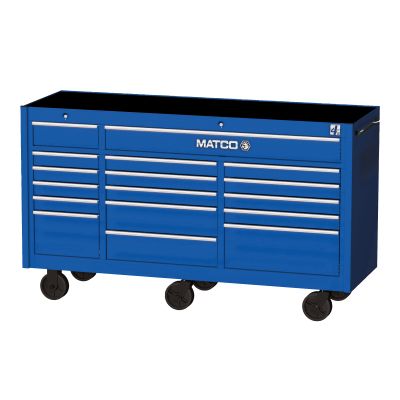 4325R-DBC4S TRIPLE BAY 25" TOOL BOX SAPPHIRE BLUE PAINT W/ CHROME TRIM
4325R-DBC 4S TRIPLE BAY 25" TOOL BOX SAPPHIRE BLUE PAINT W/ CHROME TRIM
Features & Benefits
Features heavy-duty 6" casters rated at 600lbs. per caster.
Heavy-duty roller bearing slides rated at 140lbs. per pair.
Security Tubular Locking System.
Includes laminated particle top board and premium drawer liners.
Storage capacity: 33,114 cu. in.; 8,293 sq. in.
Dimensions: height 42-1/4", width 72-1/8", depth 24-5/8" E
Color: Sapphire Blue with Chrome Handles
Return Policy *
Return for refund within: 30 days
Return for replacement within: 30 days
* Applies to purchases made on matcotools.com only; see your Matco distributor for warranty or return information on purchases made elsewhere.
4S TRIPLE BAY 25'' TOOL BOX SAPPHIRE BLUE PAINT W/ CHROME TRIM
14
14
Excellent product
I have had this box for about a year now and have had no problems at all. It holds more tools than the 24 drawer craftsman I traded in for it and the casters work great. I should never have to buy another box again. I highly reccomend the matco 4S. The only thing that would make it better would be a couple more full length drawers up top, but that's my opinion.
November 5, 2012
My pay almost doubled the same day I got this box and started using it!
I was working in a 6 bay shop for travel centers of america on semi trucks, had a small, flemsey, 30" X 22" X 42" (approx) craftsman tool box. With tools like ratchets, sockets, wrenches, filter wrenches and other special heavy duty truck tools stacked on top of each other. The tracks were cheap, stiff, and thin. The 3rd drawer from the bottom was well over loaded, as were the rest also, and used the most. I was working hard, havin a bad day and reached down to jerk the drawer open to access a tool when the 3rd drawer collapsed causing a domino effect on the ones under it. The drawer came all the way out and spilled many tools into the floor. I spun around and said something I shouldnt have, then looked up and saw a matco truck pulled up behind the bays. It was a distributor. So i went and looked at what he had, we made a deal and he brought me a brand new box a day or so later, i spent 2 hrs organizing and thought wow, every drawer has 1 layer of tools! no more digging, and hunting! I was being paid on commision for the work I was doing, and the same day I recieved my box and started using it, I almost doubled the amount of work I could get done during my 8 hr shift! I thought I was just getting lucky, but after It was reoccurring all week long, I realized it was the box that was hepling me get my jobs done much faster due to not having to dig through tools, and hunt for tools under tools. I also realized after using this box in a rough manner, in major hurries, jerkin the drawers open as fast as I could and pushing them shut harder than expected accidentally becuase of hurrying, that these boxes are made rugged and tough, reliable, and will take almost anything you can dish out as a mechanic. I have never had to replace any tracks, nor have I had any problems out of it. Seems like the more tools and weight you put in these things, the more the box likes it! Thanx matco for all you have done for me and for building a great quality box!
September 2, 2011
6 wheels/ deep drawers/ easy to move great box
I am a peterbilt tech. I had a snap on box but was not happy with it. this matco 4s is great. drawers open and close with ease and you can ajust the drawer safety latches and the drawers are deep so big tools fit with no prob. over all great box for the price. you cant go wrong with matco and the tools are just as great
October 14, 2011
this box is amazing and affordable
have had this box for some time and as a diesel mechanic all of my tools are secured very nicely and i have enough space to organize everything neatly. i am more efficient now that i traded in my single bay triple stacker! casters work great and drawers slide smooth as silk!
October 15, 2011
great tool box ever
Im a autobody/customs work i keep lots of tools in my shop in other tool box i had in the shop then i bought my 4s and full it and had more room to buy more tools to full it this box is the best i ever had
November 19, 2011
great box
this box never seases to amaze me tones of room it would take a long time to fill this
October 20, 2011
Great box, don't buy snap-on
This is by far the best box on the market, I have been a automotive instructor and a tech and these hold up the best and with little frustration. I used to have a snap on box but the annoying plastic slides under the drawer handle was an awful design. These tool boxes don't have a bunch of gadgets to make you ooo and ahhh but they serve their purpose rather well, and there are always those accessaries you can add to it. drawers slide well even when weighted down, and 25 inches deep, come on thats awesome.
September 19, 2011
This tool box out does all the rest!!!!!
Since I purchased my Matco 4S 3BAY I have yet to be disapointed in quality, durability, mobility, and still have yet to run out of space for all my tools and being a Mercedes Tech. there are tons of big and little specialty tools. The amount of room in this box is masive and compared to the boxes i've had in the past the Matco 4S 3BAY win hands down. A++++ box a must have for a professional tech.
October 18, 2011