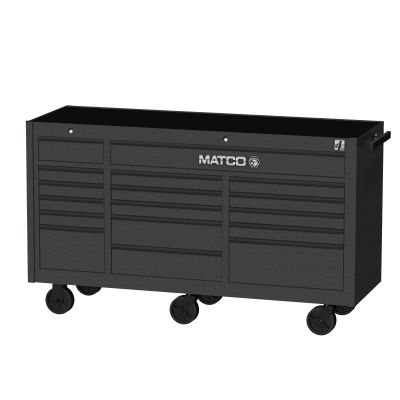 4325R-SVB4S TRIPLE BAY 25" TOOL BOX SILVER VEIN PAINT W/ BLACK TRIM
4325R-SVB 4S TRIPLE BAY 25" TOOL BOX SILVER VEIN PAINT W/ BLACK TRIM - Features & Benefits
Features heavy-duty 6" casters rated at 600lbs. per caster.
Heavy-duty roller bearing slides rated at 140lbs. per pair.
Security Tubular Locking System.
Includes laminated particle top board and premium drawer liners.
Storage capacity: 33,114 cu. in.; 8,293 sq. in.
Dimensions: height 42-1/4", width 72-1/8", depth 24-5/8"
Color: Silver Vein with Black Handles
4S TRIPLE BAY 25'' TOOL BOX SILVER VEIN PAINT W/ BLACK TRIM
3
3
Great Box unusual paint
bought this box january 2012, lots of space,side piece locks seperate from rest of box, I had to move and this box is so easy to role full, I could not believe it, only problem in cheap draw liner for price it shoold come with better ones at lease it should have the matco logo on it
November 2, 2012
Great box lots of room, durable, easy to clean finish.
I bought this box to replace a 18 year old Snap-on double bay KRL663. Now I have room for all my tools and even have room to spare. It's been years since i have been able to have all my tools readily available, this box fit the bill excellently. The finish is very durable, easy to clean and looks awesome, especially with the chrome handles I ordered for it. As a long time Snap-on purchaser, i was reluctant to switch to a different companys tool storage. This box is very strudy, and all the drawer slides have an adjustable detent, which is very convienient. Matco definatley makes a solid box and don't think just cause it's not Snap-on it wont hold up. I have only one complaint, the particle board top is ok, but the only option is the stainless steel top for like $1000.00 is pretty steep.
October 22, 2012
Great Box
I bought this box so that I won't have to really worry about replacing it because its a pretty big box very sturdy and drawer slides are very smooth couldn't ask for a better box!
September 13, 2012