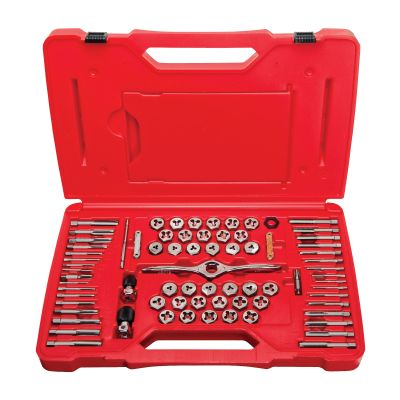 675TD75 PIECE TAP AND DIE SET
675TD 75 PIECE TAP AND DIE SET
Features & Benefits
A wide selection of fractional and metric taps and dies, plus a full complement of die stocks, tap wrenches and other accessories
New and improved drive tool
Taps and dies for 17 metric and 17 fractional sizes
Contains 1" Hex Dies: 3mm - .50, 4mm - .70, 4mm - .75, 5mm - .80, 5mm - .90 and 6mm - 1.00
1" Hex Dies: 7mm - 1.00, 8mm -1.00, 8mm - 1.25, 9mm - 1.00, 9mm - 1.25, 10mm -1.25, 10mm - 1.50, 11mm - 1.50, 12mm - 1.50, 12mm - 1.75 and 1/8" - 28 BPS
Pipe 1/8 - 27 NPT, 1/8 - 28BPS
1" Hex Dies: 4-40NC, 6-32NC, 8-32NC, 10-24NC, 10-32NF, 12-24NC
1" Hex Dies: 1/4-20NC, 1/4-28NF, 5/16-18NC, 5/16-24 NF, 3/8-16NC, 3/8-24NF, 7/16-14NC, 7/16-20NF, 1/2-13NC, 1/2-20 NF, and 1/8-27NPT
DSS1 - Die Stock, Twist Lock for 1" Hex Dies
TPS14-Adjustable Tap Socket For 0 to 1/4" and M3-0.50 to M6-1.00 taps
TPS12-Adjustable Tap Socket For 1/4" to 1/2" and M7-1.00 to M12-1.75 taps)
DSS1-Die Spacer
SG514 - Fractional Screw Pitch Gauge
6312-S - Metric Screw Pitch Gauge
TB1 - T-Bar for adjustable Tap Sockets
H926376MT - Case (special orders)
Return Policy *
Return for refund within: 30 days
Return for replacement within: 30 days
* Applies to purchases made on matcotools.com only; see your Matco distributor for warranty or return information on purchases made elsewhere.
Featured Video
The 675TD is a 75 piece Tap and Die set for both SAE and Metric. A turn of the drive tool twist-lock locking collar is all it takes to insert or remove dies. New and improved socket integrates easily with the ergonomic drive tool.
75 PIECE TAP AND DIE SET
4
4
Great Set
I've owned this set for about 6 months now, it's been a great set. I know one company makes all the taps and dies and they just get packaged differently but it's been a great set so far.
May 27, 2015
this product has great features
i would recommend this to every one it is awsome best taps i ever used
August 18, 2014
this tools saves me so many times
you have no idea how many times i messed up the bolt or nut.. this tools saves me so many times..and saves my co workers so many times too... totally recommended.
May 26, 2013
tap and die set is great!!
The set is wonderful. The set is easy to use. Matcotools did great job redesign the product. I used daily bases. The drive tool(twist lock) helps the tap line up on the hole and keep in place. twist lock helps the die keep in place too. I recommend this product.
November 27, 2012