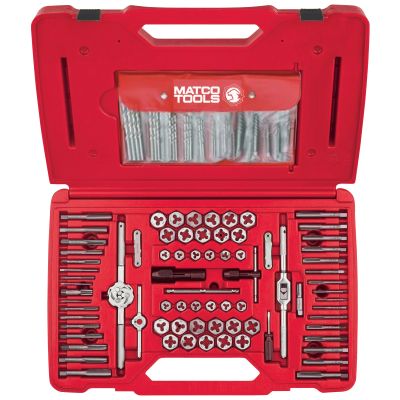 676TDP117 PIECE TAP DIE & DRILL SET
676TDP 117 PIECE TAP DIE & DRILL SET
Features & Benefits
Expanded 676TD set with a 41 piece set of drill bits and screw extractors
Industrial, high carbon steel taps and dies in fractional and metric sizes, HSS drill bits, five spiral screw extractors, eight threading tools, tap wrenches, die stocks, screwdriver and two pitch gauges, all in a plastic case.
Expands the 676TD with the DBS41P 41 piece drill set contents below:
Fractional Drill Sizes: 5/64", 7/64", 5/32", 1/4", 19/64", 5/16", 21/64", 3/8", 25/64", 13/32", 27/64", 29/64"
Numbers Drill Sizes: #3, #7, #9, #16, #19, #20, #21, #25, #29, #30, #36, #39, #43
Lettered Drill Sizes: B,F,H,I,J,O,Q,R,S,U,Z
Extractor Sizes: #1, #2, #3, #4, #5
Return Policy
Return for refund within: 30 days
Return for replacement within: 30 days
| Part # | Product Name | Qty in Set |
| --- | --- | --- |
| DBS41P | 41 PC DRILL POUCH SET | 1 |
| H9676TDMT | EMPTY BOX F/676TD | 1 |
| H9DS3D | 5/8 HEX DIE STOCK | 1 |
| TW9 | TAP WRENCH | 1 |
| SG514 | SCREW PITCH GAUGE | 1 |
| TW4 | LONG T-HANDLE TAP WR | 1 |
| DS4H | DIE STOCK | 1 |
| TW3 | SMALL T-HANDLE TAP WR | 1 |
| 6312-S | METRIC THREAD GAUGE | 1 |
| MST4 | 4-40 MACHINE SCREW TAP | 1 |
| MSD4D | 4-40 MACHINE SCREW DIE | 1 |
| MST10 | 6-32 MACHINE SCREW TAP | 1 |
| MSD10D | 6-32 MACHINE SCREW DIE | 1 |
| MST15 | 8-32 MACHINE SCREW TAP | 1 |
| MSD15D | 8-32 MACHINE SCREW DIE | 1 |
| MST20 | 10-24 MACHINE SCREW TAP | 1 |
| MSD20D | 10-24 MACHINE SCREW DIE | 1 |
| MST25 | 10-32 MACHINE SCREW TAP | 1 |
| MSD25D | 10-32 MACHINE SCREW DIE | 1 |
| MST30 | 12-24 MACHINE SCREW TAP | 1 |
| MSD30D | 12-24 MACHINE SCREW DIE | 1 |
| T2 | 1/4-20 USS TAP | 1 |
| D2H | 1/4-20 USS HEXAGON DIE | 1 |
| T12 | 1/4-28 SAE TAP | 1 |
| D12H | 1/4-28 SAE HEXAGON DIE | 1 |
| T4 | 5/16-18 USS TAP | 1 |
| D4H | 5/16-18 USS HEXAGON DIE | 1 |
| T14 | 5/16-24 SAE TAP | 1 |
| D14H | 5/16-24 SAE HEXAGON DIE | 1 |
| T6 | 3/8-16 USS TAP | 1 |
| D6H | 3/8-16 USS HEXAGON DIE | 1 |
| T16 | 3/8-24 SAE TAP | 1 |
| D16H | 3/8-24 SAE HEXAGON DIE | 1 |
| T8 | 7/16-14 USS TAP | 1 |
| D8H | 7/16-14 USS HEXAGON DIE | 1 |
| T18 | 7/16-20 SAE TAP | 1 |
| D18H | 7/16-20 SAE HEXAGON DIE | 1 |
| T10 | 1/2-13 USS TAP | 1 |
| D10H | 1/2-13 USS HEXAGON DIE | 1 |
| T20 | 1/2-20 SAE TAP | 1 |
| D20H | 1/2-20 SAE HEXAGON DIE | 1 |
| 6312-AA | 3MM X 0.50 METRIC PLUG TAP | 1 |
| 6312-AA1 | 3MM X 0.50 METRIC DIE | 1 |
| 6312-B | 4MM-0.70 PLUG TAP | 1 |
| 6312-B1 | 4MM-0.70 DIE | 1 |
| 6312-C | 4MM-0.75 PLUG TAP | 1 |
| 6312-C1 | 4MM-0.75 DIE | 1 |
| 6312-D | 5MM-0.80 PLUG TAP | 1 |
| 6312-D1 | 5MM-0.80 DIE | 1 |
| 6312-E | 5MM-0.90 PLUG TAP | 1 |
| 6312-E1 | 5MM-0.90 DIE | 1 |
| 6312-F | 6MM-1.00 PLUG TAP | 1 |
| 6312-F1 | 6MM-1.00 DIE | 1 |
| 6312-G | 7MM-1.00 PLUG TAP | 1 |
| 6312-G1 | 7MM-1.00 DIE | 1 |
| 6312-H | 8MM-1.00 PLUG TAP | 1 |
| 6312-H1 | 8MM-1.00 DIE | 1 |
| 6312-I | 8MM-1.25 PLUG TAP | 1 |
| 6312-I1 | 8MM-1.25 DIE | 1 |
| 6312-J | 9MM-1.00 PLUG TAP | 1 |
| 6312-J1 | 9MM-1.00 DIE | 1 |
| 6312-K | 9MM-1.25 PLUG TAP | 1 |
| 6312-K1 | 9MM-1.25 DIE | 1 |
| 6312-L | 10MM-1.25 PLUG TAP | 1 |
| 6312-L1 | 10MM-1.25 DIE | 1 |
| 6312-M | 10MM-1.50 PLUG TAP | 1 |
| 6312-M1 | 10MM-1.50 DIE | 1 |
| 6312-N | 11MM-1.50 PLUG TAP | 1 |
| 6312-N1 | 11MM-1.50 DIE | 1 |
| 6312-P | 12MM-1.50 PLUG TAP | 1 |
| 6312-P1 | 12MM-1.50 DIE | 1 |
| 6312-Q | 12MM-1.75 PLUG TAP | 1 |
| 6312-Q1 | 12MM-1.75 DIE | 1 |
| 6598-Y | 1/4 IN -19 BS PIPE TAP | 1 |
| 6598-X1 | 1/8 IN -28 BS PIPE DIE | 1 |
| T22P | 1/8 IN PIPE TAP | 1 |
| D25H | 1/8 IN PIPE DIE HEXAGON | 1 |
| EO1 | SCREW EXTRACTOR | 1 |
| EO2 | SCREW EXTRACTOR | 1 |
| EO3 | SCREW EXTRACTOR | 1 |
| EO4 | SCREW EXTRACTOR | 1 |
| EO5 | SCREW EXTRACTOR | 1 |
| 3 | #3 DRILL BIT | 1 |
| 7 | #7 DRILL BIT | 1 |
| 9 | #9 DRILL BIT | 1 |
| 16 | #16 DRILL BIT | 1 |
| 19 | #19 DRILL BIT | 1 |
| 20 | #20 DRILL BIT | 1 |
| 21 | #21 DRILL BIT | 1 |
| 25 | #25 DRILL BIT | 1 |
| 29 | #29 DRILL BIT | 1 |
| 30 | #30 DRILL BIT | 1 |
| 36 | #36 DRILL BIT | 1 |
| 39 | #39 DRILL BIT | 1 |
| 43 | #43 DRILL BIT | 1 |
| H940102 | 12PK LETTER B DRILL BIT | 1 |
| H940106 | 12PK HS DR LTR F | 1 |
| H940108 | 12 PK LETTER H DRILL BIT | 1 |
| H940109 | 12PK LETTER I DRILL BIT | 1 |
| H940110D | LETTER J SPEED DRILL | 1 |
| H940115 | 6PK LETTER O DRILL BIT | 1 |
| H940117 | 6PK HS DR LTR Q | 1 |
| H940118 | 6PK LETTER R DRILL BIT | 1 |
| H940119 | 6PK LETTER S DRILL BIT | 1 |
| H940121 | 6PK HS DR LTR U | 1 |
| H940126 | 6 PK LETTER Z DRILL BIT | 1 |
| HD510 | 5/64 IN DRILL BIT (10) | 1 |
| HD710 | 7/64 IN DRILL BIT (10) | 1 |
| HD10 | 5/32 IN DRILL - EA | 1 |
| HD16 | 1/4 IN DRILL - EA | 1 |
| HD19 | 19/64 IN DRILL - EA | 1 |
| HD20 | 5/16 IN DRILL - EA | 1 |
| HD21 | 21/64 IN DRILL - EA | 1 |
| HD24 | 3/8 IN DRILL - EA | 1 |
| HD25 | 25/64 IN DRILL - EA | 1 |
| HD26 | 13/32 IN DRILL - EA | 1 |
| HD27 | 27/64 IN DRILL - EA | 1 |
| HD29 | 29/64 IN DRILL - EA | 1 |
| H974901HT | 5PK BLACK SCREWDRIVER F/ 6312 | 1 |
117 PIECE TAP DIE & DRILL SET
4
4
1st time i used the tap wrench it broke in half
1st time i used the tap wrench it broke in half so im not real impressed with this product right now. i might feel diff about product if they warranty it with no ifs ands or buts
February 9, 2012
Great Product
I bought this tap and die set about six months ago. The tap and die set is a great product with self aligning taps so you going straight. The problem was the price but as i think about it, it was worth it.
September 27, 2011
Standard equipment on our trucks
We bought this set for our trucks and its a great set, thanks for expanding it range.. There is none better.
October 1, 2011
good set.
This set has everything you need. it is a life saver.
October 9, 2011