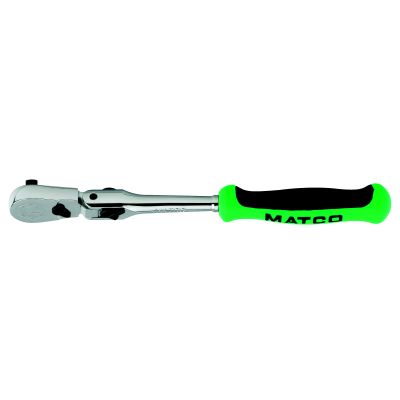 AFR68LFTG1/4" DRIVE 88 TOOTH LOCKING FLEX RATCHET
AFR68LFTG 1/4" DRIVE 88 TOOTH LOCKING FLEX RATCHET - Features & Benefits
88 ratchet gear teeth produce a swing arc just over 4 degrees allowing faster work in the most compact spaces
Dual component streamlined ergonomic handle specifically designed to handle both under hood and under car applications with ease, comfort, and access
Features unique 9-position locking flex-head. Locking lever ensures ratchet head maintains desired position regardless of size or applied load with the head rotating through a full 180 degrees
Streamlined TearDrop Ratchet Head for improved access in the most compact areas
Recessed shift lever to prevent accidental shifting to improve job efficiency
C-Ring retainer to permit fast access to the ratchet mechanism for easier maintenance
Overall length: 6"
1/4'' DRIVE 88 TOOTH LOCKING FLEX RATCHET
13
13
Great ratchet
Along with my 3/8" drive flex head ratchet, this is one of the most used ratchets I have it my box. Great for getting into tight places and have yet to break the ratchet.
October 27, 2011
Great
Great ratchet, 88 tooth makes it easy to use in small areas, lockable flex head is great.
October 24, 2011
Love this ratchet
Worked in auto industry and use this rachet everyday. It is very comfortable. the flex head came in very handy many time as well and the 88 teeth in areas that had little room to ratchet.
September 17, 2011
Great Ratchet
My favorite feature is the flex head. I use it a lot like a speed wrench and it can get you around tough corners. Ratchets very smooth. Length and sturdy handle makes for great leverage even in small spaces.
September 5, 2011
Awesome
Greatest ratchet ever bought, great price, 88 tooth is the best for hard to reach areas.
September 20, 2011