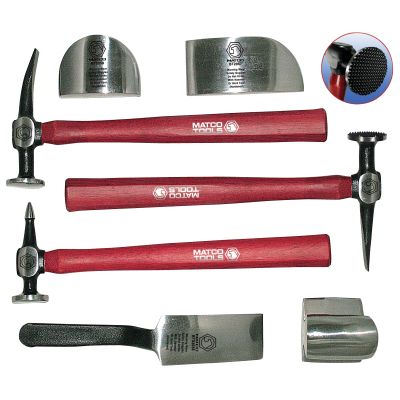 BF47K7 PIECE BODY / FENDER TOOL KIT
BF47K 7 PIECE BODY / FENDER TOOL KIT - Features & Benefits
High polish metal faces
Improved head retention with round-pin design
7 body tools for professional body work
Kit includes: chisel hammer, blunt pick hammer, shrinking hammer, 3 dollies, and a spoon
7 PIECE BODY / FENDER TOOL KIT
5
5
Great for starters great quality
Great for starters hammers are strong not like the fiber glass handles that tend to break if stricken to hard
May 16, 2013
Over all well worth the money
Being a student on financial aid I recieved the student discount. That being said I am very pleased with this set of hammers and dolly's. You can feel the quality of the tools in your hand the first time you pick them up. The only complaint I have is the face on my chisel hammer face was shaped a little weird. the crown of the hammer was kinda off too one side. other then that its a great set and I have recommended this set to all my class mates
February 27, 2013
Best body hammer set money can buy.
Matco Tools are rugged and made to last. I use this body set everyday. The Hammers are much higher quality than others and withstand the rigors of daily shop abuse. You should be able to hammer out about any area of a body between these dollys. The quality is second to none on all of these and they will be the last set you ever will have to buy.
September 26, 2011
Great quality
I got these for use going into the auto body repair field to use during my college courses and they are very well made and have a great feel to them as well as working great.
November 1, 2011
Great hammers and dollies
These hammers and dollies are great. The hammer handles are comfortable. Nice quality set
October 14, 2011