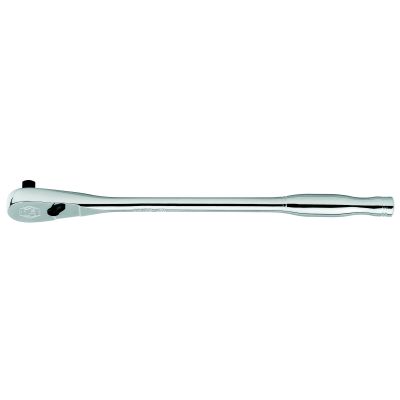 BFR118T3/8" DRIVE 11" 88 TOOTH RATCHET
BFR118T 3/8" DRIVE 11" 88 TOOTH RATCHET
Features & Benefits
88 ratchet gear teeth produce a swing arc just over 4° allowing faster work in the most compact spaces
Ultra low profile head permits access to the tightest jobs
Recessed shift lever to prevent accidental shifting to improve job efficiency.
Streamlined teardrop ratchet head and long handle pattern for improved access in the most compact areas
"Swollen" contour handle ergonomically designed for a firm, non-slip grip with optimum conformability.
C-Ring retainer to permit fast access to the ratchet mechanism for easier maintenance.
Overall length: 11"
Return Policy
Return for refund within: 30 days
Return for replacement within: 30 days
3/8'' DRIVE 11'' 88 TOOTH RATCHET
16
16
Great for tight places!!
I work in the marine industry and bought this ratchet because of working in tight places in engine rooms. It has made my life alot easier having a 4 degree arc. it doesn't weigh much and is comfortable to use on long day. I am planning on buying another to keep at home.
September 12, 2011
good features, decent execution
I like the overall feel of the ratchet, but the teeth act like the machining is a little rough. I like the narrow head and thin build, but the internal mechanism is the weak point.
December 14, 2011
very good quality
love the smooth operation have rachets in1/4 and3/8
December 15, 2011
very smooth and easy
the 88 teeth and slim design make it easy to get in tight places and make a turn. its very smooth through the gears and comfortable against the palm of your hand when applying pressure
September 1, 2011
Excellent!!!
I love my 3/8 ratchet. Probably my most used tool ever since I began building with Matco. I love it! works great for anything and everything.
September 20, 2011
VERY SMOOTH
I REALLY LIKE HOW SMOOTH AND USEABLE THIS RATCHET IS AND AND VERY EASY TO MAINTAIN.
October 1, 2011
The ratchet for the job
This 88 is tuff as nails and can take punishment and keep on ticking working like new after a summer of fun.
September 9, 2011
my new favorite ratchet
very smooth ratcheting action, and the length is great for extra leverage.
September 4, 2011