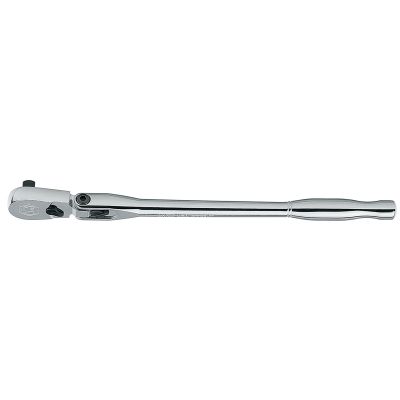 BFR128LFT3/8" DRIVE 88 TOOTH LOCKING FLEX RATCHET
BFR128LFT 3/8" DRIVE 88 TOOTH LOCKING FLEX RATCHET - Features & Benefits
88 ratchet gear teeth produce a swing arc just over 4° allowing faster work in the most compact spaces
Features unique 9-position locking flex-head. Locking lever ensures ratchet head maintains desired position regardless of size or applied load with the head rotating through a full 180°
Ultra low profile head permits access to the tightest jobs
Streamlined TearDrop Ratchet Head and long handle pattern for improved access in the most compact areas
Recessed shift lever to prevent accidental shifting to improve job efficiency
"Swollen" contour handle ergonomically designed for a firm, non-slip grip with optimum conformability
C-Ring retainer to permit fast access to the ratchet mechanism for easier maintenance
Overall length: 12"
3/8'' DRIVE 88 TOOTH LOCKING FLEX RATCHET
22
22
good strong ratchet
everything about this ratchet is just right. my only complaint is the chrome finish is shotty. its got pits in it but thats no biggie. GREAT OVERALL RATCHET
February 15, 2013
Great ratchet,BUT.......
Great ratchet but REALLY needs a quick-release as sockets can be hard to get off.
February 11, 2013
great so far
use it all the time. great for accessing bolts in deep awkward spots. length permits some nice torque too.
April 2, 2012
Most versatile ratchet in my box
This is my new favorite ratchet. All the others in my box will be rusting up now! The flex head allows you to adapt it for many roles including brakes, under-hood, interior and more. It has a slimmer profile than other ratchets I own, so it gets into tight spots, but still has a long sturdy handle that allows for breaking torque. Love this ratchet and have zero complaints at all!
October 27, 2011
Amazing
I use this ratchet everyday from brakes to shocks to pretty much anything in a shop. Will break any stubborn bolt lose. With the pivot action your able to get into awkward position and still get the whole effect of the ratchet. Definitely a piece you need in a garage or shop or in any tool box. Great piece of equipment.
November 26, 2011
Smooth ratcheting!
Love the design of the lock, simple to use, and a much better design then other locking flex mechanisms. My one complaint is that when you have it set to off, you have to turn the ratchet in order to get it to click to on, and vise versa, otherwise it will lock and you can't flick the lever. Odd and slightly annoying.
November 21, 2011
Great Rachet
I've recently bought this and it's just amazing, works great. I highly recommond the 88th Racheting
January 4, 2012
broke once
I bought this tool and two weeks later I stripped the gears, had them replaced, works great, but do not recommend for high torque procedures
December 9, 2011