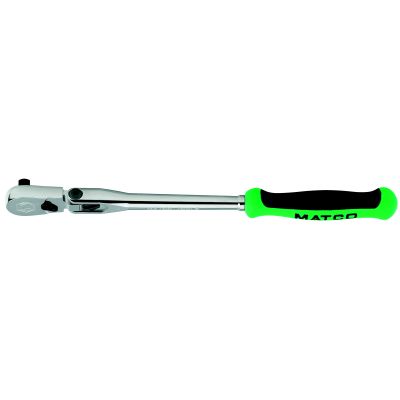 BFR128LFTG3/8" DRIVE 88 TOOTH LOCKING-FLEX RATCHET - GREEN
BFR128LFTG 3/8" DRIVE 88 TOOTH LOCKING-FLEX RATCHET - GREEN
Features & Benefits
88 ratchet gear teeth produce a swing arc just over 4° allowing faster work in the most compact spaces
Features unique 9-position locking flex-head. Locking lever ensures ratchet head maintains desired position regardless of size or applied load with the head rotating through a full 180°
Dual component streamlined ergonomic handle specifically designed to handle both under hood and under car applications with ease, comfort, and access
Ultra low profile head permits access to the tightest jobs
Overall length: 12"
Streamlined TearDrop Ratchet Head and long handle pattern for improved access in the most compact areas
Recessed shift lever to prevent accidental shifting to improve job efficiency
C-Ring retainer to permit fast access to the ratchet mechanism for easier maintenance
Return Policy
Return for refund within: 30 days
Return for replacement within: 30 days
3/8'' DRIVE 88 TOOTH LOCKING-FLEX RATCHET - GREEN
40
40
Quality ratchet
I have several of the new SO ratchets and I'm not saying one is better than the other but that each has its own advantage. I like this ratchet because the head is much thinner than the SO's counterpart and the quality seems on par with them to. The ergonomic handle is very nice but I cant say to much because I haven't used it allot. The main strong point of this ratchet is its locking head which is way better than the completions because it doesn't get stuck or jammed. The length is defiantly a bonus in most cases and the fine ratchet teeth are great for tight spots. Overall this ratchet is a great tool to have in your arsenal.
October 4, 2013
Must buy
I love the extra movement of the head to get into hard to reach places. Also I bought this ratchet because it's handle is 12" great for more torque.
October 29, 2013
The Best One Out There
This ratchet is the best one out there. You cant go wrong buying this one.
October 29, 2013
Probably the best
I have the green ratchet, I've had it for about 4 monte, and absolutely love it. it is my go too ratchet. with the 88 teeth it makes tight spaces much easier and approachable. The fact that it is a flex head was very appealing to me, it pretty well will fit anywhere and do anything. With it being 12" long, gives you the torque you need to do just about any job you needed to tackle. The only stickler i have is, i wish the head was a little narrower so it would fit in smaller places but that would not put me off from recommending this 100%. The handle is great, no slip with oily hands and easy to clean.
July 4, 2013
everything i need
i bought this ratchet after a great deal of searching for a ratchet to round out my collection. i wanted a flex head that locks, a slim head for tight spaces, a high tooth count for a tight swing, high quality and american made with a lifetime warranty. i also wanted a plastic or rubber handle because it gets cold where i live and bare steel can be uncomfortable in your hands.this ratchet has become one of my most used and i would buy one again if this one were lost.
June 27, 2013
More features than the next ratchet, not as strong
Ive owned this ratchet for a year next week. The first day, first day I had it I broke it. Since getting it repaired I have used it ever day happily. I unbolted the head to loctite the screw because it would almost back all the way out by it self. I love that you can use it as a flex head, but lock it when you really need to apply torque to it. The thin smooth head fits in spots better than other brands and I really like the shorter selector switch. Matco rubber handles are the most comfortable of any I have owned and stand up well to oil and brake clean. Now though, I broke it again yesterday. This time I took it apart and found that a few teeth off the pawl broke. I suspect this is what happened last time as well. I have seen many other techs abuse their ratchets and have not seen them brake any so easily. I would think a 3/8 with this long of a handle could handle as much power as i can put behind it with out really throwing myself at it. A shorter version maybe better, the pawls in these are just disappointing
April 23, 2013
Great Ratchet
Everything works great, but the soft rubber on the handle is pretty easily ripped. Would like to see a solid plastic handle. Other than that, it's a great tool. 88 teeth definitely helps in the tight spots.
April 12, 2013
Great Ratchet
This is a great ratchet, the slim profile makes it great for getting into tight areas. Great quality as well, I highly recommend this ratchet.
April 15, 2013