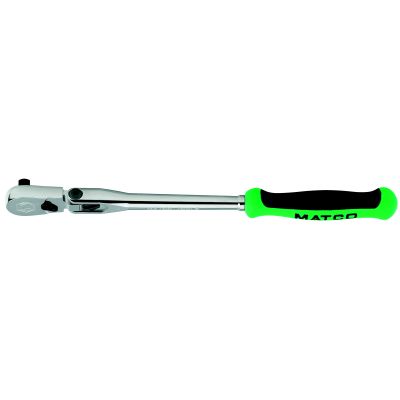 BFR128LFTG3/8" DRIVE 88 TOOTH LOCKING FLEX RATCHET - GREEN
BFR128LFTG 3/8" DRIVE 88 TOOTH LOCKING FLEX RATCHET - GREEN
Features & Benefits
Ultra low profile head permits access to the tightest jobs
88 ratchet gear teeth produce a swing arc just over 4° allowing faster work in the most compact spaces
Features unique 9-position locking flex-head. Locking lever ensures ratchet head maintains desired position regardless of size or applied load with the head rotating through a full 180°
Dual-component, streamlined, ergonomic handle specifically designed to handle both under hood and under car applications with ease, comfort and access
Overall length: 12"
Streamlined teardrop ratchet head and long handle pattern for improved access in the most compact areas
Recessed shift lever to prevent accidental shifting to improve job efficiency
C-Ring retainer to permit fast access to the ratchet mechanism for easier maintenance
Return Policy *
Return for refund within: 30 days
Return for replacement within: 30 days
* Applies to purchases made on matcotools.com only; see your Matco distributor for warranty or return information on purchases made elsewhere.
Rated

4.8

out of

5

 by

48

reviewers.
Rated

5

out of

5
 by
TibCity
One of the best ratchet.
One of the Best ratchet I have ever used and I would recommend it ...
April 4, 2014
Rated

5

out of

5
 by
MikeBfromBloomington
Not many failures. Works well. I like it
Tools break people when you're a mechanic for a living but I think this has only broke once or maybe twice on me so I would recommend this.
January 19, 2014
Rated

5

out of

5
 by
Smokedoutsquirl
Great ratchet.
This is a great ratchet. Very high quality. Nice thin ratchet head. Fits where other ratchets wont. More teeth than the competitors also. Rubber handle is easy to clean too
December 29, 2013
Rated

5

out of

5
Great long lasting ratchet.
This is by far my favorite and most used ratchet I own. I own many ratchets of drive, length, brand, shape, color, you name it. (Snap-on, MAC being the main other brands) and Matco ratchets are by far the best. The 88 teeth work flawlessly and smoothly. Have had it for about a year and has not broke or locked up or had a single thing go wrong. Would deffinetly recommend this ratchet or any other Matco ratchet to a new guy changin oil or a 30 year technician!
December 23, 2011
Rated

5

out of

5
 by
JUANCHO
SLIM HEAD WITH LEVERAGE
THIS RATCHET IS GREAT BECAUSE THE HEAD DOES NOT STICK OUT AN INCH FROM THE SOCKET LIKE ALL OTHER SNAP ON RATCHETS. THIS RATCHET ALSO GIVE YOU ENOUGH LEVERAGE TO BRAKE LOSE ANY BOLT OR NUT. IT ALSO GIVES YOU THE OPTION TO LOCK THE HEAD AT ANY ANGLE, IDEAL FOR HARD TO REACH AREAS. THE HANDLE FEELS SOFT BUT ITS VERY DURABLE, TRUST ME I HAVE USE IT EVERY DAY FOR THE PAST YEAR. ONCE YOU TRY IT YOU WILL NEVER WANT TO LET IT GO! THIS RATCHET IS EXTREMLY STRONG!!!!
October 15, 2011
Rated

5

out of

5
 by
Pete
Must buy
I love the extra movement of the head to get into hard to reach places. Also I bought this ratchet because it's handle is 12" great for more torque.
October 29, 2013
Rated

5

out of

5
 by
saryon7
Great Ratchet
This is a great ratchet. It is the one that gets the most use. I like the feel of it and it is long enough to provide tons of leverage. It works so well I hardly ever even grab my 1/2" Matco ratchet that I also love. Next purchase is going to be the 1/4" flex head. I have a matco one already, but just not the flex head. After using the flex heads with the soft grip, it is hard to want anything else. They are simply the best ratchets out there- bar none.
November 13, 2011
Rated

4

out of

5
Overpriced
It's a pretty decent ratchet, but not as nice as another brand that shall remain nameless. For a fine tooth ratchet its kinda rough, the head isn't sealed, and it's held together by a snap ring. The only reason I bought it is because the head locks, my other brand ratchets do not do that. All in all, it's an ok ratchet, I just don't feel it should cost more than another brand, especially since the other one is made a lot better.
May 18, 2012
Rated

5

out of

5
 by
Howler243
The Best One Out There
This ratchet is the best one out there. You cant go wrong buying this one.
October 29, 2013
Rated

4

out of

5
 by
countyman12
Great Ratchet
Everything works great, but the soft rubber on the handle is pretty easily ripped. Would like to see a solid plastic handle. Other than that, it's a great tool. 88 teeth definitely helps in the tight spots.
April 12, 2013
Rated

5

out of

5
 by
Nick
Great Ratchet
Along with my 1/4" drive locking flex head ratchet, this is one of the most used ratchets in my box. Great for those situations were accessibility is restricted but leverage is needed. The locking mechanism on the flex head is great. It helps reduce the amount of times the ratchet will slip off the nut as was a problem every time I used a flex ratchet without the locking mechanism.
October 27, 2011
Rated

5

out of

5
 by
nickfg208
Great Ratchet
This is a great ratchet, the slim profile makes it great for getting into tight areas. Great quality as well, I highly recommend this ratchet.
April 15, 2013
Rated

5

out of

5
 by
JJ89
can't be beat
This ratchet is the first one i grab. It has held up to a full year so far maintaining an oil field truck fleet! I would be lost without it! I also recomend the 3/8" cordless impact. It has more power than i expected, and i have impressed several people with it. The lithium battery lasts a very long time also! highly recomend it!
September 15, 2011
Rated

5

out of

5
 by
blavoie94
Must need ratchet
Use this ratchet all day long working at prime toyota of Saco the locking flex head makes it easy to get into the tightest of places and the 88 tooth allows use in places you could normally never take a ratchet
February 12, 2013
Rated

5

out of

5
 by
Max192
Best ratchet I have ever owned.
Where to start. I love everything about the ratchet, locking flex head holds up under heavy load and the 88 fine teeth do as well. I've taken transmission bolts loose with this thing with a 3 foot extension easily.
January 23, 2013
Rated

3

out of

5
 by
greenneck
More features than the next ratchet, not as strong
Ive owned this ratchet for a year next week. The first day, first day I had it I broke it. Since getting it repaired I have used it ever day happily. I unbolted the head to loctite the screw because it would almost back all the way out by it self. I love that you can use it as a flex head, but lock it when you really need to apply torque to it. The thin smooth head fits in spots better than other brands and I really like the shorter selector switch. Matco rubber handles are the most comfortable of any I have owned and stand up well to oil and brake clean. Now though, I broke it again yesterday. This time I took it apart and found that a few teeth off the pawl broke. I suspect this is what happened last time as well. I have seen many other techs abuse their ratchets and have not seen them brake any so easily. I would think a 3/8 with this long of a handle could handle as much power as i can put behind it with out really throwing myself at it. A shorter version maybe better, the pawls in these are just disappointing
April 23, 2013
Rated

5

out of

5
 by
Tyler30
Great Ratchet
This is a great ratchet to have the flexing head and 88 teeth are great. My father-in-law use it once and love it. So he went and brought a craftman one like it. I use that one once when i didn't have mine and the gears stripped on my first use. You can't beat the matco quality. I have this style of ratchet in every drive.
September 17, 2011
Rated

5

out of

5
 by
tcrip1
My favorite!
I have had mine for several years, I have the older larger orange handle whitch I like better because of my hands, the larger handle is easer to grip, but if I have to use a ratchet I grab that one, I have 5 3/8 ratchets and if I don't use that one it's the straight matco ratchet just like it, can't beat them!
October 11, 2011
Rated

5

out of

5
 by
pulletzer
best ratchet out there period
Used it for 3 months best ratchet i used so far period.
April 14, 2013
Rated

5

out of

5
 by
Marky13
Tough ratchet with awesome leverage and fine tooth action
I originally had a Snap On long flex with no lock to it. Slipped off too many things because of the non locking. Saw my dealer on Tuesday and traded in a old matco for this new style.Lets just say the Snap on ratchet just sits in the box now. Great job Matco Tools
September 24, 2011
Rated

5

out of

5
 by
Joey016
Money well spent, great tool most used
This really is the perfect tool it feels really good in your hand, the quality is top notch, and with the locking flex head it fits in the tightest spaces. deffinatly the tool i reach for most in my tool box i'm gonna get the 1/2" and 1/4" next. and the 88th is a nice touch too.
November 14, 2011
Rated

5

out of

5
 by
Oliboy
Awesome locking flex head and love the fine teeth
This ratchet has saved me a few times, actually alot more then a few times. love the versatility it provides for every job and also the leverage it gives. I really like it because it is slim and unlike the snap on ratchets the head isn't so sloppy when not locke in.
September 1, 2011
Rated

5

out of

5
 by
WayneToolGuy11
Best Ratchet Ever
This ratchet gives you a very nice length to get plent of torque on a bolt and a length you can't beat for those hard to reach bolts on the front of an engine. The locking angle head has also come in very handy allowing ease of acess to some the hardest to get to bolts.
September 28, 2011
Rated

5

out of

5
 by
801techslc
THIS RATCHET IS GREAT!!!!!!
THIS IS MY GO TO RATCHET USE IT EVERYDAY, HAS NOT LET ME DOWN, YOU WILL LOVE IT....
January 10, 2013
Rated

5

out of

5
 by
wafrederick
Best 3/8 flex head ratchet
Best 3/8 flex head ratchet I have had.Like the handle and metal locking posi lock.Purchased it from my dealer last week.My Cornwell flex head ratchet stays in my tool cart now.I do have the 1/4 drive version too which does get used a lot too.
December 21, 2011
Rated

5

out of

5
 by
Radish
AWSOME
This is the best ratchet that i have ever used. People that I work with were telling me buy snap-on ratchets there the best (NOT TRUE AT ALL) and then i bought this one and let a couple of people use it and now i see many of them with this ratchet.
November 21, 2011
Rated

5

out of

5
 by
ohgoodone
All Around Awesomeness
I absolutly love this ratchet. It offers tons of leverage when you need it. I find the grip to be far more comfortable than the plain steel ones. The locking head comes in handy, wish some of my older ratchets locked... over all 5*
November 14, 2011
Rated

5

out of

5
 by
goinsdt5
Great tool must have.
I have had this product for a year now and its had cheaters on it and has never once broken or sliped. Have other guys in shop with snapon tolls they borrow mine when theirs breaks.
September 13, 2011
Rated

5

out of

5
 by
xcellrtr
great ratchet
This is one the best ratchets I have owned compared to snap on and mac. I highly recomend it you will not be dissapointed
December 20, 2011
Rated

5

out of

5
 by
nmrwr85
Best ratchet money can buy
I can't stress enough how much better this ratchet is than others in my tool box. The 88 teeth make it ideal for tight spaces where you can't get much ratcheting movement.
September 3, 2011