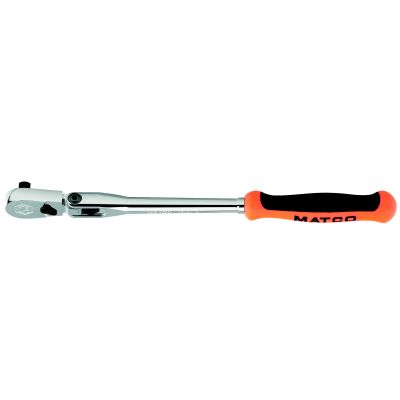 BFR128LFTM3/8" DRIVE FLEX HEAD RATCHET - ORANGE
BFR128LFTM 3/8" DRIVE FLEX HEAD RATCHET - ORANGE
Features & Benefits
88 ratchet gear teeth produce a swing arc just over 4° allowing faster work in the most compact spaces
Features unique 9-position locking flex-head. Locking lever ensures ratchet head maintains desired position regardless of size or applied load with the head rotating through a full 180 degrees
Dual component streamlined ergonomic handle specifically designed to handle both under hood and under car applications with ease, comfort, and access
Overall length: 12"
Ultra low profile head permits access to the tightest jobs
Streamlined TearDrop Ratchet Head and long handle pattern for improved access in the most compact areas
Recessed shift lever to prevent accidental shifting to improve job efficiency
C-Ring retainer to permit fast access to the ratchet mechanism for easier maintenance
Return Policy
Return for refund within: 30 days
Return for replacement within: 30 days
3/8'' DRIVE FLEX HEAD RATCHET - ORANGE
22
22
Awesome!
In my opinion Matco ratchets are the best ratchets on the market. I use this ratchet everyday all day long, and it has never missed a beat. I would say that it is a must have for any tool box, but mine never stays in my tool box it is always in my hand.
December 12, 2013
Best Ratchet Ever
A must have in your toolbox. Well worth the money and just one tough tool.
May 1, 2013
Best Ratchet I've Every Owned
I bought this ratchet about 6 months ago and it is by far the best I've ever owned. I use it every single day, and I usually have to go searching for it because every one else in the shop uses it too. The flex head has come in handy more times that I can remember. My boss traded in his flex head snap on ratchet for one of these, and another mechanic bought one yesterday. I love these ratchets so much that I went and bought the 1/4" drive orange flex head also!
August 29, 2012
Best Ratchet Ever!!!
My box holds many many ratchets, but this is by far my favorite ratchet out of all the rest, and the one I go to grab 90% of the time. The 88 teeth make working in tight spaces much easier, and has the smoothest motion I've ever felt. The flex head feature is also great, especially since it locks. To top it all off, the grip feels fantastic in my hands and doesn't beat them up like the signature tear drop ratchets from other brands.... Definitely would recommend this ratchet to anybody, DIYer or tech!
June 3, 2012
Max
smooth action easy locking . I also own the quarter inch and love the ease of the locking head . I have the snap on as well the lock is much more difficult if your in a hurry this is my go to tool
September 26, 2012
Overall Best Rachet I've Ever Used
I was in need of a new 3/8 flex head. I was very interested in this product. When the Matco truck showed up at work and I was able to see and feel the ratchet for myself I was thoroughly impressed. The comfort grip is very natural feeling and fills out the hand nicely. The locking mechanism for the flex head comes in handy on certain jobs where you need to lock in a certain angle and don't want the ratchet handle moving out of place when you apply pressure. The head is very slim and a breeze to get into tight spots and the 88 teeth make the swing arc very small, and the mechanism is exceptionally smooth. I would recommend this product to anyone, well worth the money spent.
June 24, 2012
This is one of the finest tools ever construsted
I am a mechanic and my old Mac 3/8 swivel head ratchet finaly bit the dust instead of replacing it i decided to try another brand, Matco. I saw this ratchet and had to have one. The smooth 88 tooth gear and the locking pivot joint put this at the top of its game. Over all this tool has been a pleasure use the comfort grip along with 12 inches of leverage helps out with those stubborn knuckel busting
December 26, 2011
Greatly efficient tool for mechanics
Pro: This ratchet is the perfect length to use for most applications, being short enough to use in tight spaces but long enough when you need the leverage. The head is a lot slimmer than other brands which proves itself many times. The flexible head makes it easy to work around numerous angles. Cons: The locking mechanism for the flexible head can be awkward at times.
September 14, 2011