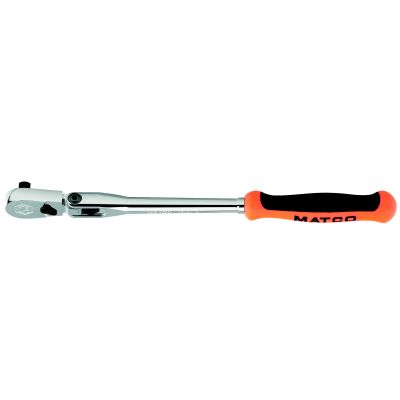 BFR128LFTM3/8" DRIVE FLEX HEAD RATCHET - ORANGE
BFR128LFTM 3/8" DRIVE FLEX HEAD RATCHET - ORANGE
Features & Benefits
88 ratchet gear teeth produce a swing arc just over 4° allowing faster work in the most compact spaces
Features unique 9-position locking flex-head. Locking lever ensures ratchet head maintains desired position regardless of size or applied load with the head rotating through a full 180 degrees
Dual component streamlined ergonomic handle specifically designed to handle both under hood and under car applications with ease, comfort, and access
Overall length: 12"
Ultra low profile head permits access to the tightest jobs
Streamlined TearDrop Ratchet Head and long handle pattern for improved access in the most compact areas
Recessed shift lever to prevent accidental shifting to improve job efficiency
C-Ring retainer to permit fast access to the ratchet mechanism for easier maintenance
Return Policy
Return for refund within: 30 days
Return for replacement within: 30 days
3/8'' DRIVE FLEX HEAD RATCHET - ORANGE
21
21
Great tool!
88 teeth provide a tiny swing arc, while the ratcheting mechanism feels positive. The guys at my shop borrow this ratchet when their snap-on or mac ratchets can't fit into a tight spot. my one gripe is that the locking mechanism gets stuck and can be a pain to unlock sometimes.
September 1, 2011
Great ratchet
The locking mechanism comes in handy so you dont have to fight the head of the ratchet in certain right areas. Sometimes needs a wiggle to unlock. Great swing arc, handle fits my hand pretty well. Very slim head on the ratchet!
September 28, 2011
Great Ratchet
This is the first Matco product that I have purchased and it is now my go to ratchet. I don't use any other ratchet! Can't wait to get some more tools. Great quality product.
October 13, 2011
great tool for any type of mechanic
this is my number 1 used ratchet, 88 tooth is a must have and the soft grip is a great feature
November 18, 2011
Great all around ratchet!
This is my go to ratchet in 3/8" drive. The ratcheting action is very smooth. Also the locking mechanism is 100% better than what Snap-on has to offer. I would recommend this ratchet to anyone.
September 23, 2011
never had a problem
never had a problem using this ratchet. its works great in tight spaces and with the flex head u never have problems getting to the hard to reach places.
October 17, 2011
good ratchet
i love having a 88 tooth ratchet with a nice handle and the flex head makes it easy to get it into were you need it to go, its worth the money
October 6, 2011
Best Ratchet Ever
I brought this ratchet and boy this does everything you want a ratchet to do. If you are consider of buying a good ratchet then this ratchet is the one for you.
September 24, 2011
Great ratchet for tight spots
This is a great ratchet, the 88 tooth design is extremely helpful in tight, hard to reach spaces. This is the best ratchet I have ever used, I highly recommend it.
September 12, 2011
This flex head ratchet has no competition.
I work at a dealership in Dallas TX. I use this ratchet everyday all day it is a must have.
October 16, 2011
Great ratchet
The 88 tooth head and comfort handle is a pleasure to work with in tight quarters
October 1, 2011
Must get product.
Best ratchet I ever bought. I recommend anybody getting this. It's money well spent
September 1, 2011
love all the features
I really like the 88 teeth really helps in tight spaces.
September 2, 2011