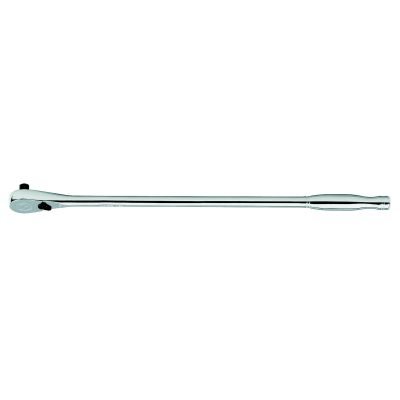 BFR158T3/8" DRIVE 88 TOOTH RATCHET
BFR158T 3/8" DRIVE 88 TOOTH RATCHET
Features & Benefits
15" length is the industry's best and provides leverage for the toughest fasteners
88 ratchet gear teeth produce a swing arc just over 4° allowing faster work in the most compact spaces
Ultra low profile head permits access to the tightest jobs
Streamlined teardrop ratchet head and long handle pattern for improved access in the most compact areas
Recessed shift lever to prevent accidental shifting to improve job efficiency
"Swollen" contour handle ergonomically designed for a firm, non-slip grip with optimum conformability
Overall length: 15"
C-Ring retainer to permit fast access to the ratchet mechanism for easier maintenance
Return Policy
Return for refund within: 30 days
Return for replacement within: 30 days
3/8'' DRIVE 88 TOOTH RATCHET
18
18
great
This thing is my go to ratchet i use it on everything. Great for drain plugs.
November 17, 2013
Nice ratchet made in USA
This is a very nice ratchet it's made in USA stamped on it, That's what sold me on it...simple design , Its great for less strain on my hands. The 88 teeth are nice for close spots, and the c-clip holding the gear in place is much better than checking the snap on ratchet torx screws that strip and always back out under high torque... If your bending it you shouldn't be using it
October 24, 2013
Good ratchet... for a girl.
I bought one of these ratchets a few weeks ago. I bent it while removing a brake caliper bolt... why make the handle so long if you can't put some muscle behind it? It was warrantied for a new one, and I gave it to my wife who uses it on her bicycles. She has not had any issues.
December 7, 2011
Best Ratchet Ever
Best ratchet i ever owned.will easily break free what a 1/2 ratchet does
August 16, 2013
Not good enough
Bent the handle and locked up the gear set first day. After repaired I've been easy on it due to a lack of trust. A long handle is "high leverage" in my mind and this one doesn't hold up. It looks pretty sitting in the toolbox. The upside to it is the small, slim head and high tooth count as well as it's COO (country of origin, USA).
September 27, 2011
This Ratchet is AWESOME!!!
i use this ratchet everyday on everything. from drain plugs to lug nuts i use this on EVERTHING!!! i bought the early model of this ratchet and noticed it flex on the body when i use it for alingments. and i bought a newer model of this ratchet and wow stronger then ever doesnt Flex and i cant tell you how i love this ratchet. Sweet Design and i got two of them what can go wrong!!!
May 5, 2013
I recommend this if you are looking for the slimest ratchet
This ratchet caught my eye because it is so slim! It is the slimest ratchet that i have by far. It is also quiet long so it's good to use on medium tight fasteners. Although i do not recommend using this on heavy suspension bolts as the ratchet doesn't "FEEL" tough for the length that it has. I do recommend it 100% for engine work because sometimes you can't get into the engine belt area with a normal ratchet and socket, but with this one it is very slim and much easier for that kind of work. I say it's a good investment.
November 13, 2012
great leverage
Awesome ratchet my new favorite tool breaks free rusted bolts like nothing
March 26, 2013