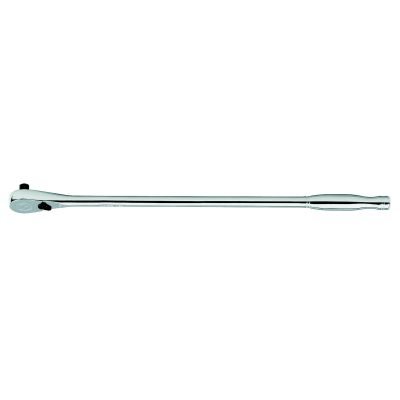 BFR158T3/8" DRIVE 88 TOOTH RATCHET
BFR158T 3/8" DRIVE 88 TOOTH RATCHET
Features & Benefits
15" length is the industry's best and provides leverage for the toughest fasteners
88 ratchet gear teeth produce a swing arc just over 4° allowing faster work in the most compact spaces
Ultra low profile head permits access to the tightest jobs
Streamlined teardrop ratchet head and long handle pattern for improved access in the most compact areas
Recessed shift lever to prevent accidental shifting to improve job efficiency
"Swollen" contour handle ergonomically designed for a firm, non-slip grip with optimum conformability
Overall length: 15"
C-Ring retainer to permit fast access to the ratchet mechanism for easier maintenance
Return Policy
Return for refund within: 30 days
Return for replacement within: 30 days
3/8'' DRIVE 88 TOOTH RATCHET
18
18
My Favorite Ratchet
I love this ratchet!! I use it any chance that I get!! Great torque!! Smooth action!! Comfortable!! Fits into small space that other ratchets can't!! A must have for any technician!! Great investment!!
November 26, 2012
I never knew!!!
I never knew they made ratchets with so many teeth. This thing allows you in tight spaces and gives you multple clicks before you can loosen or tighten the bolt. A regular ratchet, your lucky to get a click before you have to use a wrench to get the bolt out, having to flip the wrench around back and forth to get the right angle. Great Tool !!!
November 17, 2011
when you need a little more...leverage
very durable, handles everything that i can throw at it so far. makes certain tasks easier when space is limited, the head is much smaller than a 1/2 ratchet or breaker.
January 26, 2012
awsome
its length lets it fit all the way up into the tightest spots that a lot of 1/2 drives cant because there head is too big. and the 88 teeth adds to the ability of fitting into tight spaces. even for getting stubborn oil filters off in hard to reach spots, its great
September 16, 2011
A must have ratchet
In my opinion Matco ratchets are the best. This ratchet is excellent. It many times takes the place of a 1/2in drive ratchet since it is 15in in lenth. The head is small and can fit in places a 1/2in drive ratchet cannot. 88 teeth help a lot when room is scarce.
September 1, 2011
Fantastic
Best 3/8 ratchet i have ever used. Awesome leverage. I rarely find myself reaching for the 1/2 anymore
December 7, 2011
Excellent Ratchet!
Nice and long, rarely grab my 8" ratchet anymore. It does flex a bit if your really reefing on it but it definatelly holds up.
November 8, 2011
this ratchet is great
Great ratchet i use it for everything every day other techs in my shop ask to use it very dependable
October 18, 2011
Very slim fits in tight areas
This is a great ratchet nice and slim and the long handle gives you great torque i find sometimes i dont even need to use my 1/2 inch when i have this thing works great!
September 6, 2011
great ratchet
great tool lossens any thing you need it to, great for working on brake calipers
September 13, 2011