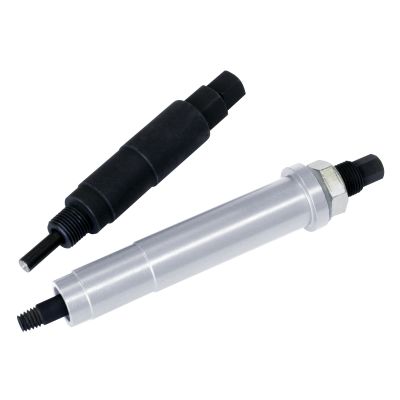 BPR65FORD BROKEN PLUG REMOVER
BPR65 FORD BROKEN PLUG REMOVER
Features & Benefits
Removes broken spark plugs from 2004 and newer Ford Triton 3 valve per cylinder engines.
The set includes a unique porcelain pusher tool and a tapered left-hand thread remover for removing the broken spark plug without leaving the porcelain in the engine cylinder.
Blow-molded storage case included.
Return Policy *
Return for refund within: 30 days
Return for replacement within: 30 days
* Applies to purchases made on matcotools.com only; see your Matco distributor for warranty or return information on purchases made elsewhere.
| Part # | Product Name | Qty in Set |
| --- | --- | --- |
| HW65670 | PORCELAIN PUSHER HOUSING | 1 |
| HW65610 | HOUSING F/ BPR65 | 1 |
| HW65620 | PULLER SCREW F/ BPR65 | 1 |
| HW65660 | LEFT HANDED HEX NUT | 1 |
| 58980 | GASKET FOR PR588 | 1 |
FORD BROKEN PLUG REMOVER
8
8
Paid for its self in 30 mins
Dealer wanted 600 to1200 to change the plugs out, that's just dumb I ask if I can change them out and was told you need a trained professional to do that. Well I'm not an idiot I can do this I had 4 of the 8 plugs brake and of the 4 broken ones came out with easy and a little caborator cleaner. Truck runs like brand new. Buy the tool and you'll save your money.
September 20, 2014
works everytime
Broken triton plugs, as well as this tool, are not for the weekend mechanic. However, in the hands of a professional, it works every time. This remover has saved me countless times.
July 28, 2014
Top notch
I am by no means a mechanic. I had heard all sorts of horror stories about pulling plugs from the ford 5.4L. Ford motor co. Charges 350$ for a tune up, and then 100$ for the first hole and 50$ ever hole there after. I went to the family mechanic and was instructed that he could do it for 800$. The cost of this tool + quick shipping 160$, the plugs I bought $19.95 each and I was able to complete this task with out any troubles 4/8 plugs broke off and the tool did its job. I was able to do the entire job for less than 400$ and total time was 9 hours, I took my time just because I didn't want to rush and end up with other problems.
July 19, 2013
DID NOT REMOVE TIP WITHOUT BREAKING OFF THE END OF THE PLUG IN THE CYLINDER.
PURCHASED THIS TOOL TO REMOVE THE PLUGS FROM MY 2004 F150 WITH 5.4 3 VALVE ENGINE. IF USED AS DIRECTED IN INSTRUCTIONS IT WILL PUSH THE ELECTRODE OFF THE END OF THE PLUG AND IT WILL FALL INTO THE CYLINDER. IT ALSO BREAKS PIECES OF THE PORCILIN OFF. I TRIED TO NOT INSTALL THE PUSHER ALL THE WAY IN BUT THAT DOES NOT WORK. WHEN YOU BOTTOM OUT THE PUSHER SCREW AS INSTRUCTED IT PUSHES THE END OFF THE PLUG. IF YOU DONT SCREW IT DOWN THAT FAR YOU CANNOT GET THE PULLER SCREW INSTALL INTO THE TIP FAR ENOUGH TO PULL THE TIP . IT WILL PULL THE TIP BUT I NOW HAVE TO TAKE THE TRUCK TO THE DEALER TO HAVE THE HEADS REMOVED. $1500-$1700 REPAIR BILL. TOOL NEEDS SOME MORE DESIGN WORK. IT WOULD ALSO BE HELPFUL TO SLIGHTLY LOOSEN THE PLUGS AND THEN SOAK WITH CARB CLEANER FOR A DAY OR SO,
July 8, 2012
AMAZING ( A MUST HAVE )
You can do this job without it, but i wouldnt reccomend it! Just threw away the previous 2 kits that it took to do this nightmare of a job and replaced it with this! Cuts job time in half
January 24, 2013
good tool to have
a must have tool in tool box if you work on ford 4.6 5.4
November 28, 2012
every mechanic should own this
This is by far the best tool investment i have ever made this set is worth its weight in gold does exactly what it says and at a cheaper price than pulling a head you will NOT be dissapointed
January 18, 2012
awesome tool
works great and easy to use! works better than any other way Ive tried to remove broken plugs.
September 1, 2011