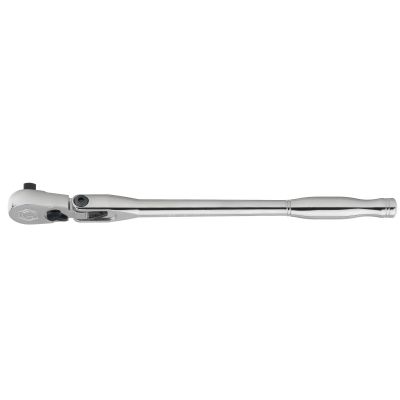 BR12LFTA3/8 DR 12 LOCK/FLEX RATCHET
Detailed Specs
Head Diameter

1-1/8"

Head Thickness

9/16"

Head Type

Locking Flex

Overall Length

11-3/4"

Repair Kit

BRTRK

Locking Assembly Repair Kit

BRTBSLSA

Head Only

BRTLHDA

Type

-
3/8 DR 12 LOCK/FLEX RATCHET
11
11
great tool
this rachet provides great access and the locking feature really helps I liked it so much I'm buying the 1/2 inch drive version too
April 13, 2013
this ratchet serves double duty and is a great value
after dealing with a flex head ratchet from a competitor that I had replaced once within a month of getting it, I decided that enough was enough. I realized that I couldn't be busting my knuckles, and fixing the old inferior tool after every use. I bought all three sizes, and after some initial break in I finally felt comfortable reaching for my ratchet and knowing it was gonna be ready, willing and able to help me accomplish my work. Thank you Matco
February 2, 2013
Great Ratchet
I pick up this ratchet subconsciously over my Snap On ratchet every time I go to do something. Excellent ratchet.
January 6, 2013
excellent flex head ratchet
This ratchet is easy and comfortable to use. The longer handle gives you plenty of torque on just about any fastener. even the locking flex head is great, the teeth however aren't quite as fine as i'd like but this is otherwise an outstanding ratchet.
October 20, 2012
This go-to has never done me wrong.
very strong, good length. locking swivel head comes in handy. doesnt lock when not intended like other brands version i have used.
January 23, 2012
This product has a great feature but small problem
I love the ratchet for the simple reasons that it has a long handle and that it has a locking flex head. i have had this ratchet for a few years overall i do like it bu i have had problems with the head stripping out.
December 21, 2011
Great Ratchet
This is a great ratchet- comfortable in your hand, perfect length for breaking loose rusted and frozen fasteners and the flex head makes it great for a wide range of applications- the locking feature makes sure the handle stays where it's supposed to! Highly recommend!
September 13, 2011
Best ratchet
This is probably the only ratchet I ever use. everyone needs this.
October 9, 2011