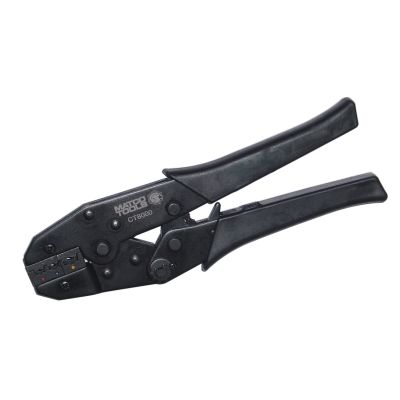 CT8000CRIMPING TOOLS
CT8000 CRIMPING TOOLS - Features & Benefits
Color-coded triple pivot points compound crimp force for effortless crimps.
Designed for crimps 22 - 10 AWG insulated terminals to meet UL486 specifications
Ratchet mechanism ensures consistent crimping at preset tension every time
Hardened alloy steel jaws, and mid carbon steel construction with chemically black finished with vinyl grip
Automatically releases and springs open for next crimping job
Quick release over-ride trigger
CT8000 - Standard Crimper
CT8100 - For open barrel
good
Worth the money. Makes a super right crimp and won't cut the terminal or wire.
January 31, 2013
Very hard to use
I would rather use my plier style crimpers than these there bulky and have no leverage the ratcheting action just holds your place when i bought it I thought that it would click back open for more leverage
January 23, 2013
Great tool
Perfect crimp every time. I like the ratcheting action which lets you know when its done crimping.
October 31, 2011