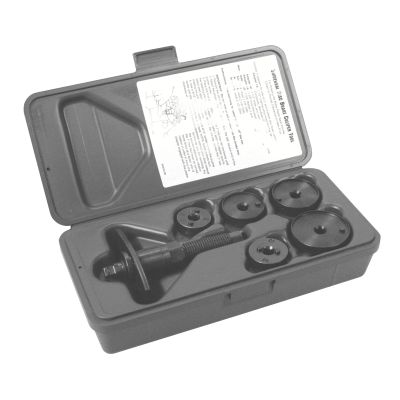 DB25REAR DISC BRAKE CALIPER TOOL
DB25 REAR DISC BRAKE CALIPER TOOL
Features & Benefits
For rotating pistons back into the caliper to provide clearance for new pads.
Includes 5 adapters for use in both 2 and 4-wheel rear disc brake assemblies of most domestic and import cars.
Can be used "on" or "off" vehicle.
Helps prevent damage to the piston and boot
DB25470 - Screw & Body
DB25-08 - 1-1/2" Adapter
DB25-11 - 1-5/8" Adapter
Return Policy
Return for refund within: 30 days
Return for replacement within: 30 days
REAR DISC BRAKE CALIPER TOOL
3
3
Excellent Features
I have used both Snap-On's and Mac Tools caliper return tools and Matco's by far takes the cake. The backing plate can be removed for very small rear calipers and the twist function of the body is so easy to turn by hand even after fully pushing the caliper back. This tool fits into smaller places and has a better selection of adapters than the competitors.
April 11, 2013
Very solid
I've always used a standard C clamp to press back the caliper cylinder however, recently I have been working with some more high performance vehicles with larger calipers making it real difficult to slide the C clamp over to the backside of the caliper. Much better and quicker results with this set - great addition to any tool box.
December 11, 2011
Good design.
Compared to the snap-on equivalent tool which uses a snap ring to hold the plate together. It would snap off or brake. This Matco product is actually made better.
November 29, 2011