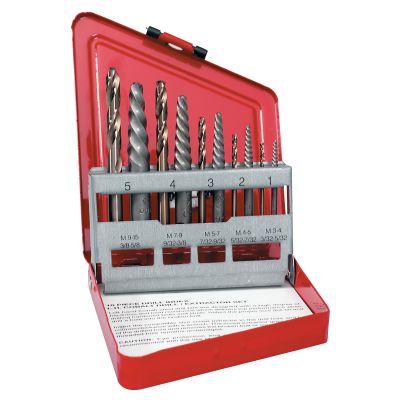 DEK1010-PC LEFT DRILL BIT EXR KIT
DEK10 10-PC LEFT DRILL BIT EXR KIT
Features & Benefits
10 PC set includes five fluted screw extractors and their corresponding left hand, split point cobalt drill bits. Includes one each of the following: #1, #2, #3, #4, #5 tapered screw extractors, 5/64", 7/64" 5/32", 1/4" and 19/64" left hand cobalt dril
Return Policy
Return for refund within: 30 days
Return for replacement within: 30 days
10-PC LEFT DRILL BIT EXR KIT
6
6
best extractor i've ever used
these are the best extractors i've ever used and the left handed drill bits work perfectly and are extremly sharp. i was able to remove an antenna bolt from an srx with no problem. the quality is unmatched and the warenty is perfect. the only thing that would make it better would be if the bits were included.
October 17, 2011
handy tool
works well at removing broken bolts, many times the drill bit does most of the work, a time saver
December 8, 2011
Love the left drill bits
Works great on broken bolts. I never even have to use the extractor. I just drill in with the drill bit going in counter clockwise and the bolt will usually spin its way out.
October 10, 2011
Great quality
Great product that works everytime. Removes broken bolts with ease.
December 23, 2011
Great Screw Extractor Set
This set of screw extractors is great and and it works ever time and I have never broken one in the time i've had it great tool MATCO!
September 4, 2011
A must have.
When taking out broken bolts this set is a time saver in every way.
October 25, 2011