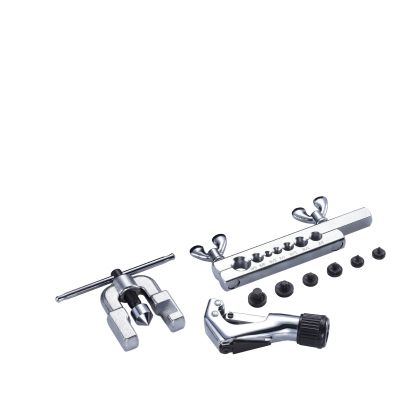 DFS260ADOUBLE FLARE TOOL SET
DFS260A DOUBLE FLARE TOOL SET
Features & Benefits
Makes standard 45 degree flares. Sizes: 3/16", 1/4", 5/16", 7/8", 1/2" and 5/8" OD.
Double flaring adapters: 3/16", 1/4", 5/16", 3/8" 1/2" OD.
Includes an extra 3/16" 45 degree adapter and heavy duty tube cutter (TC126A)
Return Policy
Return for refund within: 30 days
Return for replacement within: 30 days
DOUBLE FLARE TOOL SET
4
4
Great working tool
This tool performed great. I did not want to spend $200 dollars plus for the fancy tool but did not want a cheap tool that might or might not work. This tool fit the bill nicely. Made great flares after some practice. There are a couple YouTube videos out there that go into detail plus offer some great tips to help get great results.
January 19, 2014
HOPEFULLY BETTER THAN THE OTHER SETS
Am in the middle of replacing multiple brake lines on a rusted out Chevy P-U, using a cheaper double flaring kit--you know--the ones that cost 25 to 50 bucks? Finally I've had to admit that even when you cut the tubing squarely & install a perfectly straight length of tubing in the"rail" clamp, you still get an off center initial flare, as described by the above reviewer. I can't describe the feeling in the pit of your stomach when you painstakingly run & flare multiple lines as carefully as possible, only to have multiple hydraulic leaks, just when you THINK you're finished! The slotted design of the "C" clamp on this Matco kit seems like it would sit more squarely on the "rail" clamp, therefore more accurately centering the flare around the tubing's hole--the all important factor in sealing off possibly 1000 PSI of hydraulic pressure! Just bought this kit yesterday; will respond back later w/results.
October 26, 2013
Great Buy
I have been working as a mech for 4 years now and have tried several different double flare tools ... anything from autozone brand to bluepoint this is by far the best. The locking jaws on the clamp are great, very easy to make a perfect flare every time. The only quality issue i had was some bubbles in the chrome.... nothing serious.
July 15, 2013
The best flare tool on the market for the money
This is the best break line flare tool I have ever used. The way the Clamp is cut to lock onto the rail when your pressing the die into the line is the best feture ever. It makes it so it dosnt ever twist to the side and screw up the flare. The only complant I have is that the cutters finish has come off and the wheel has chipped, but then again I have flared about 500 lines sence I have got this kit. So buy two one for ur box and one to rent out when all ur buddy's see how great it works
December 18, 2011