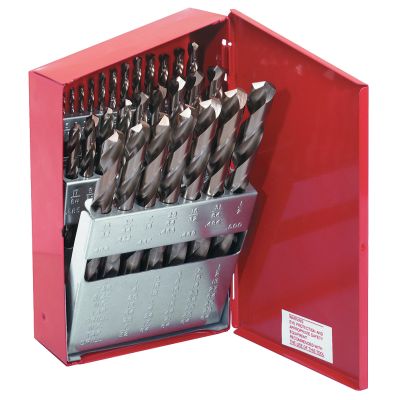 DMC2929 PIECE COBALT DRILL BIT SET
DMC29 29 PIECE COBALT DRILL BIT SET
Features & Benefits
Set of 29 premium cobalt drill bits with maximum hardness and wear resistance
Set includes sizes from 1/16" - 1/2" in 1/64" increments
Includes a metal drill index
Return Policy
Return for refund within: 30 days
Return for replacement within: 30 days
| Part # | Product Name | Qty in Set |
| --- | --- | --- |
| HDC4 | 1/16 IN COBALT DRILL BIT | 1 |
| HDC5 | 5/64 IN COBALT DRILL BIT | 1 |
| HDC6 | 3/32 IN COBALT DRILL BIT | 1 |
| HDC7 | 7/64 IN COBALT DRILL BIT | 1 |
| HDC8 | 1/8 IN COBALT DRILL BIT | 1 |
| HDC9 | 9/64 IN COBALT DRILL BIT | 1 |
| HDC10 | 5/32 IN COBALT DRILL BIT | 1 |
| HDC11 | 11/64 IN COBALT DRILL BIT | 1 |
| HDC12 | 3/16 IN COBALT DRILL BIT | 1 |
| HDC13 | 13/64 IN COBALT DRILL BIT | 1 |
| HDC14 | 7/32 IN COBALT DRILL BIT | 1 |
| HDC15 | 15/64 IN COBALT DRILL BIT | 1 |
| HDC16 | 1/4 IN COBALT DRILL BIT | 1 |
| HDC17 | 17/64 COBALT DRILLBIT | 1 |
| HDC18 | 9/32 COBALT DRILL BIT | 1 |
| HDC19 | 19/64 COBALT DRILL BIT | 1 |
| HDC20 | 5/16 COBALT DRILL BIT | 1 |
| HDC21 | 21/64 COBALT DRILL BIT | 1 |
| HDC22 | 11/32 COBALT DRILL BIT | 1 |
| HDC23 | 23/64 COBALT DRILL BIT | 1 |
| HDC24 | 3/8 COBALT DRILL BIT | 1 |
| HDC25 | 25/64 COBALT DRILL BIT | 1 |
| HDC26 | 13/32 COBALT DRILL BIT | 1 |
| HDC27 | 27/64 COBALT DRILL BIT | 1 |
| HDC28 | 7/16 COBALT DRILL BIT | 1 |
| HDC29 | 29/64 COBALT DRILL BIT | 1 |
| HDC30 | 15/32 COBALT DRILL BIT | 1 |
| HDC31 | 31/64 COBALT DRILL BIT | 1 |
| HDC32 | 1/2 COBALT DRILL BIT | 1 |
29 PIECE COBALT DRILL BIT SET
3
3
Hard to break drills bits.
These bits are of excellent quality. Even though they are lifetime warranty, I have yet to warranty because they stay sharp for so long.
November 17, 2011
killer drill set
Awesome drill bit set i've thrown every thing at them .and drill like butter .of course with the use of cutting oil .well worth every dollar spent.
October 4, 2011
Strongest drills I have ever used
I do a lot of drilling. these drill bits are the best I have ever used, I'll never use another brand of drill bits now that my dealer put me on to these, Thanks' Matt
March 28, 2013