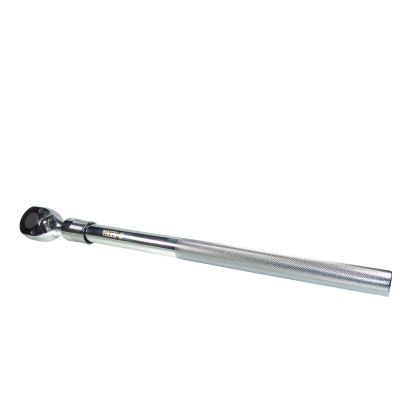 DR40T3/4" DRIVE 40" EXTENDABLE RATCHET
DR40T 3/4" DRIVE 40" EXTENDABLE RATCHET - Features & Benefits
Unique extendable locking shaft extends from 24" to 40."
Precise 5 degree drive head contains 24 teeth for greater access.
Meets ANSI torque requirement
Lifetime warranty on ratchet head operating assembly.
3/4'' DRIVE 40'' EXTENDABLE RATCHET
11
11
its a great tool to have
i was tired of having to use a cheater bar on wheel bearing outer nuts this not only saves me time but also the work implied on getting a pipe every time i needed to use my other 3/4in ratchet
May 15, 2013
Strong ratchet!
This is a great ratchet! Very strong! Has the leverage to loosen the most stubborn bolt or nut!
April 2, 2013
Supper Strong Ratchet
Supper strong ratchet. I can loosen any bolts or nuts at the first time. Love it very much. The best ratchet i have ever used in my life. I would buy more some day. Actually, i want to buy each tool from Matco twice to save for my self in the future. It sounds like crazy, but that is true for me.
December 29, 2012
Great ratchet
This thing will break any nut. I love it and it collapses down for easy storage
November 14, 2011
A Ratchet You Must Have
This is the strongest ratchet i have. It is great and extends to give you alot of leverage so loosening tough nuts and bolts is very easy.
December 19, 2011
Great product
I work on semi trucks and i love this ratchet i use it for everything from takeing out drain plugs on oil pans to takeing off wheel bearing nuts it does it all i love the ability to keep it shorter for the tight places and still have the leverage i need and being able to extened it for all the leverage i need and more it gets the tightest bolts loose with ease.
September 9, 2011
Great rachet !!!!
Great rachet , gives you a great breaking power with stubborn bolts and tighten bolts
December 9, 2011
This is an amazing ratchet.
I work on semis. Mainly dump trucks. This ratchet comes in very handy for removing and installing dump bed cylinders as well as removing wheel bearings and working on suspensions.
September 19, 2011