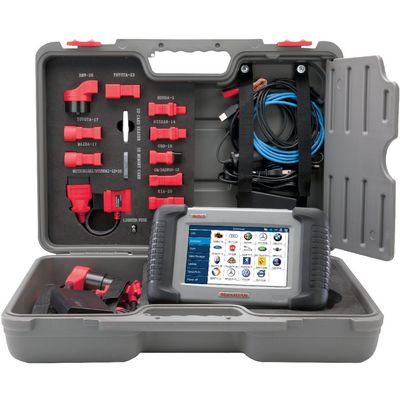 DS708AUTOMOTIVE DIAGNOSTIC SYSTEM
DS708 AUTOMOTIVE DIAGNOSTIC SYSTEM
Features & Benefits
Extensive vehicle coverage for more than 30 domestic Asian and European vehicle makes;
Deep vehicle system coverage for ALL electronic systems;
Complete function capability including live data Module coding and so many others;
Unparalleled OBDII functionalities-supports ALL 5 OBDII protocols and ALL 9 test modes;
Automatic Wi-Fi updates available in new software releases;
Innovative dual-processor technology for quicker diagnostics and boot-up;
The genuine Windows CE operating system allows for more stable performances better compatibility and expandability;
WIFI internet capability allows for wireless access throughout the workshop;
Internet explorer brings internet resource of your choice at your fingertips;
Advanced USB communication for faster operation and more accurate diagnostics;
Extremely easy-to-us with touch-screen operation and intuitive operation;
7 inch 800 x 480 pixel TFT color display provides better view of test results graphs web pages and etc;
Unique shop tough ergonomic design features multi-layered rubber protection and strong housing;
Intelligent memory of vehicles for easy and quick diagnosis of tested vehicles;
Capture save and print screenshots for convenient troubleshooting;
Display live data in text graph and analog for easy data review and analysis;
Record and playback live data to pinpoint troubles of sensors and components;
Innovative graph merging for easy and quick detection of intermittent problems;
Automatic WIFI Data Logging for quick and accurate technical support and troubleshooting;
Built-in overvoltage protection keeps the instrument and vehicle from unwanted damages;
Creative remote diagnosis for convenient demonstrationand training;
Powered by Autel(R) Uni-SCANTM technology with no need for extra adaptors or "keys" ;
Print out recorded data any time and anywhere with Wi-Fi printing capability.
Return Policy
Return for refund within: Non-refundable
Return for replacement within: 30 days
AUTOMOTIVE DIAGNOSTIC SYSTEM
8
8
Impressive!
I used it on my 03 Land Rover to clear ABS lights and it worked. I've tried all the different scanner at the school and I couldn't clear the lights after I've replaced one of the speed wheel sensor. My DS708 told me that my pump relay is open, I replaced relay and wala! The only complain I have is that it doesn't work with Apple computer. I had to buy a PC separately to register it.
February 9, 2014
Best Value of any Scan Tool
L1 2G CMAT. Got demo on Maximus and GDS. Own Snap-on Modis, Launch X-431, OTC, and several other small scan tools. This one will destroy Snap-on euro coverage, is friendlier to use than Launch, and has way more coverage than OTC. Unbelivable amount of bi directional controls, impressive domestic capabilites!!! Ask Matco rep for test drive, took me less than 30 min (after seeing IDS style power balance on 99 Expedition) to have to add it to the collection, you will reach for this first. BTW, connected to MotorAlldata with zero issues (yes it has wi-fi)
April 24, 2013
1st Impression
I have had this scan tool for a week now so heres my first impression. So Far I love this thing, gets into every computer just like an oem scanner. I work at a gm dealer and this has eliminated the need for me to constantly look for a tech2. Kinda wish it went further back than 96 but don't really get too many old cars. It also does some programming stuff I didn't know it could do such as module initialization and resets. Stuff we used to have to outsource I can now do (and charge for). The first year of updates are free then I think it's like 6 or 7 hundred, but unlike most of the other guys if you skip a year you don't have to buy two years. Another cool thing is the remote desktop, this is an awesome feature if you need to test items under the car, you can turn on evap, ho2s, etc and check all your circuits much easier. All and all I am very pleased with the ds708, once I have had it for a while I will post an updated review.
February 1, 2014
Best bang for your buck in diagnostic tools!
Look no further, you won't find a better tool at this price point!! The level of software found in the DS708 is comparable to factory tools but without costing you thousands for each one. I was impressed by the crisp clear touch screen and the ultra fast processing speed! Everything youll need is packaged in one manageable sized case which is really helpful on service calls. Get this tool, you'll be glad you did!
June 9, 2012
Great for the money
Ive had this for a year now. It is slow to boot, has to be hooked to a car or power outlet to come on, but this will get into way more modules than my solus ultra, my diesel guy grabs this tool first because of the bi directional controls on power strokes, i use it on tough diagnosis jobs. hands down great on volvos mercades, and volkswagon. So far the updates have been free.
March 25, 2013
cool diagnostic tool
i've been able to scan airbag, abs, check engine and complete diagnostic for import and domestic cars, i've been able to fix any problem with all the cars, it has the special functions to activate relays and perform test for evaporative or injection test, it's really cheap for what it does, it's pretty cool
December 4, 2012
for the price I paid, hands down the best auto scanner
I am completing an auto tech internship program, we use 3 different types of scan tools in class, my autel ds708 is a cut above them all. Easy too use, more coverage, and internet features. What else can I say?
July 13, 2013
great machine
im loving it and if you keep up with the updates it gets faster and faster i been able to program moudles . scan all types of systems and get data on most of the cars that i have used it on. great deal on it too. i hardly use any of other scanners .
January 9, 2013