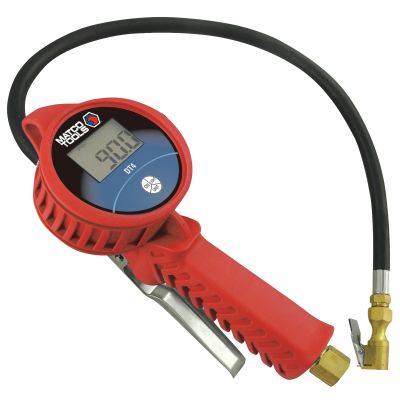 DT43.5" DIGITAL TIRE INFLATOR
DT4 3.5" DIGITAL TIRE INFLATOR
Features & Benefits
Easy change chuck system with 1 button operation
Measuring range: 3 ~ 175psi
Displays KG, PSI or BAR measurement
Resolution: 0.1psi
Works on a nitrogen system, unit comes with 21" Hose
Two position lever. 1st position deflates, 2nd position inflates.
Allows accurate reading of tire pressure assisting with functionality of use with TPMS (Tire Pressure Monitoring System)
Return Policy
Return for refund within: 30 days
Return for replacement within: 30 days
Detailed Specs
P.S.I Range

3 - 175

Operating Temperature Range

32F~104F

Units

PSI / BAR / KPA / KGF

Resolution

0.1 PSI

Accuracy

0 ¡V 58 psi +/- 1.2 psi

Power Source

Lithium Batteries

Battery

140hr lifetime

# Bolt Positions

0
3.5'' DIGITAL TIRE INFLATOR
30
30
Very Useful
Easy to attach, easy to operate, well made and accurate. Lighted display when needed. Automatic display shut off when not in use. One trigger operation allows inflating and deflating by simply squeezing the trigger half way or full. It's a time saver, and a keeper.
March 17, 2014
AWESOME!!
I don't know what i did before i got this. Makes checking tire pressure and adjusting them much easier. Less time consuming and more enjoyable not having to swap from gauge to air chuck to deflation, etc. Very useful tool.
February 27, 2014
Everyone at the shop has one!
Nice to have for all the tpms systems these days. You sometimes have to hold the chuck so it doesn't leak, but i won't knock it for that as not all valve stems are the same. A nice addition to any tool collection. They should sell this in a wide variety of colors! it would probably boost sales and It would be a lot easier to identify who's inflator is who's that way.
January 8, 2014
This tool is awesome
Love the features of the product and the quality. Great tool.
January 21, 2014
must have
I have no complaints about this product. It is a must have at the shop, especially with TPMS. All of the techs at my dealership use this gauge.
December 28, 2013
Awsome toold!must have if working on Tires!
I am a Tire Guy @ an Auto Shop and being a tire guy this tool makes life so much easier. Especially with more cars coming out of the factory with TPMS sensors this tool lets you accurately determine the tire pressure, and also lets you deflate the tire as well...
December 14, 2013
Great Tool
If you work in a shop this is a must have tool. Every car has tpms sensors and this makes life so much easier.
December 3, 2013
This product makes tire inflating fast! No switching from chuck to gage!
Inflates every type of tire easily. From golf cart tires to truck tires. A no hassle tool! I wish the back light stayed on longer but that is not going to stop me from recomending it.
June 28, 2013