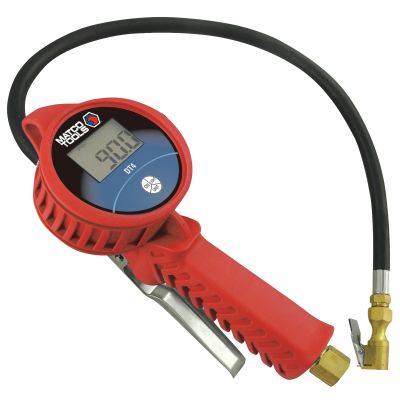 DT43.5" DIGITAL TIRE INFLATOR
DT4 3.5" DIGITAL TIRE INFLATOR
Features & Benefits
Easy change chuck system with 1 button operation
Measuring range: 3 ~ 175psi
Displays KG, PSI or BAR measurement
Resolution: 0.1psi
Works on a nitrogen system, unit comes with 21" Hose
Two position lever. 1st position deflates, 2nd position inflates.
Allows accurate reading of tire pressure assisting with functionality of use with TPMS (Tire Pressure Monitoring System)
Return Policy
Return for refund within: 30 days
Return for replacement within: 30 days
Detailed Specs
P.S.I Range

3 - 175

Operating Temperature Range

32F~104F

Units

PSI / BAR / KPA / KGF

Resolution

0.1 PSI

Accuracy

0 ¡V 58 psi +/- 1.2 psi

Power Source

Lithium Batteries

Battery

140hr lifetime

# Bolt Positions

0
3.5'' DIGITAL TIRE INFLATOR
24
24
Great Tool
If you work in a shop this is a must have tool. Every car has tpms sensors and this makes life so much easier.
December 3, 2013
Nice to have
This tool is nice to have. The numbers r big and accurate.
October 29, 2013
dont get the screen dirty
item work well and accurate...only issue if u ever get oil or trans fluid, any automotive fliud on it..the screen will become hard to read and the rubber case will swell up...I think it great for home use but not everyday work use
October 17, 2013
This product makes tire inflating fast! No switching from chuck to gage!
Inflates every type of tire easily. From golf cart tires to truck tires. A no hassle tool! I wish the back light stayed on longer but that is not going to stop me from recomending it.
June 28, 2013
The Best Tire Inflator
I saw this tire inflator at my new car dealership and I had to have one. It is the best I ever had. You will not regret this purchase.
May 23, 2013
Good tool easy to use
Bought this after I borrowed one from another tech. I like the digital readout and backlight. Accurate and I like that it has a deflate feature as some others I have used didn't.
May 12, 2013
Great product.
This product is well worth the money. I work with Volkswagen and am constantly using this product. It is accurate, and although slightly bigger than I though, easy to use. The two position trigger works great and like I mentioned before, it is very accurate.
March 22, 2013
Acceptable
The digital tire inflator works well. The only flaw that it has is the end of it that attaches to the valve stem never seals well against the valve stem. The end that clips on never stays on well and it leaks a lot of air as you are trying to inflate the tire, you have to hold it to the valve stem for it to work. It is its only flaw
February 11, 2013