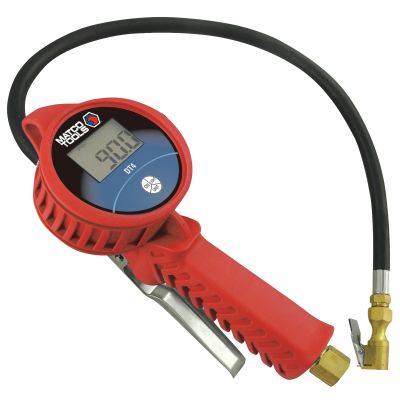 DT43.5" DIGITAL TIRE INFLATOR
DT4 3.5" DIGITAL TIRE INFLATOR - Features & Benefits
Easy change chuck system with 1 button operation
Measuring range: 3 ~ 175psi
Displays KG, PSI or BAR measurement
Resolution: 0.1psi
Works on a nitrogen system, unit comes with 21" Hose
Two position lever. 1st position deflates, 2nd position inflates.
Allows accurate reading of tire pressure assisting with functionality of use with TPMS (Tire Pressure Monitoring System)
Detailed Specs
P.S.I Range

3 - 175

Operating Temperature Range

32F~104F

Units

PSI / BAR / KPA / KGF

Resolution

0.1 PSI

Accuracy

0 ¡V 58 psi +/- 1.2 psi

Power Source

Lithium Batteries

Battery

140hr lifetime

# Bolt Positions

0
3.5'' DIGITAL TIRE INFLATOR
18
18
Good tool easy to use
Bought this after I borrowed one from another tech. I like the digital readout and backlight. Accurate and I like that it has a deflate feature as some others I have used didn't.
May 12, 2013
Great product.
This product is well worth the money. I work with Volkswagen and am constantly using this product. It is accurate, and although slightly bigger than I though, easy to use. The two position trigger works great and like I mentioned before, it is very accurate.
March 22, 2013
Acceptable
The digital tire inflator works well. The only flaw that it has is the end of it that attaches to the valve stem never seals well against the valve stem. The end that clips on never stays on well and it leaks a lot of air as you are trying to inflate the tire, you have to hold it to the valve stem for it to work. It is its only flaw
February 11, 2013
Amazing air chuck
Bought this air chuck after going through too many no name air chucks that were inaccurate. I am in love with this gauge! Very quick to read, very accurate and feels solid.
November 5, 2012
solid product
My only complaint is that the backlight doesn't stay on for more than 2 seconds. I guess that's done to save battery life but it's just a little bit annoying.
November 4, 2012
The best there is
When I got the inflator I knew the feel and quality, I used the analog model before but not true enough for my satisfaction. The accuracy of the DT4 gauge is 99.9% true to the TMPS actual readings on the vehicles I work on. The back light that i don't use much is bright enough for good reading of the gauge especially at low light conditions or at night. Even got a fellow tech to get one.
October 8, 2012
Greatest buy
Great tool use it everyday can't stand to use any other tire gauge!
August 28, 2012
DT4
Well i really like the tire pressure gauge except for the fact that it wouldn't turn on after a couple of weeks when i needed it at work. but i took it apart adn reseated the battery and it started working. although i think the hose should be more like 12 inches and the clip-on thing doesn't grab the velve stem all the way.
May 9, 2012