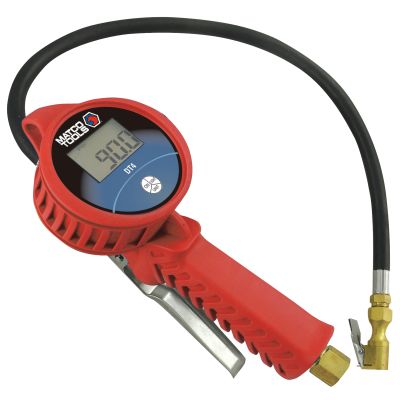 DT43.5" DIGITAL TIRE INFLATOR
DT4 3.5" DIGITAL TIRE INFLATOR
Features & Benefits
Easy change chuck system with 1 button operation
Measuring range: 3 ~ 175psi
Displays KG, PSI or BAR measurement
Resolution: 0.1psi
Works on a nitrogen system
Unit comes with 21" hose
Two position lever: 1st position deflates, 2nd position inflates.
Allows accurate reading of tire pressure assisting with functionality of use with TPMS (Tire Pressure Monitoring System)
Return Policy *
Return for refund within: 30 days
Return for replacement within: 30 days
* Applies to purchases made on matcotools.com only; see your Matco distributor for warranty or return information on purchases made elsewhere.
Detailed Specs
P.S.I Range

3 - 175

Operating Temperature Range

32F~104F

Units

PSI / BAR / KPA / KGF

Resolution

0.1 PSI

Accuracy

0 ¡V 58 psi +/- 1.2 psi

Power Source

Lithium Batteries

Battery

140hr lifetime

# Bolt Positions

0
3.5'' DIGITAL TIRE INFLATOR
32
32
Expectations Exceeded
Very well built product. Automatic shutoff was well thought out in order to extend battery life as much as possible. The extra long hose assembly was another reason why I chose the item as it helps with fatigue as well as vehicles with dual rear wheels. I also found that the backlit display came in very handy at the dragstrip when I am in a area of the pits that is not well lit. The homework was really done with the production of this unit and I recommend this unit to anyone.
October 3, 2011
Acceptable
The digital tire inflator works well. The only flaw that it has is the end of it that attaches to the valve stem never seals well against the valve stem. The end that clips on never stays on well and it leaks a lot of air as you are trying to inflate the tire, you have to hold it to the valve stem for it to work. It is its only flaw
February 11, 2013
Everyone at the shop has one!
Nice to have for all the tpms systems these days. You sometimes have to hold the chuck so it doesn't leak, but i won't knock it for that as not all valve stems are the same. A nice addition to any tool collection. They should sell this in a wide variety of colors! it would probably boost sales and It would be a lot easier to identify who's inflator is who's that way.
January 8, 2014
The best there is
When I got the inflator I knew the feel and quality, I used the analog model before but not true enough for my satisfaction. The accuracy of the DT4 gauge is 99.9% true to the TMPS actual readings on the vehicles I work on. The back light that i don't use much is bright enough for good reading of the gauge especially at low light conditions or at night. Even got a fellow tech to get one.
October 8, 2012
very good update
an old coworker had the the first version and i liked the concept of it. i waited some time and picked up this version. this was a replacement of another brands air gauge due to its repeated failure. i absolutely love this thing. just recently had to buy new batteries since i used up the two that came with it. with every matco product i purchase the more i walk away from the other guys. the quality that goes into every tool is much better.
November 17, 2011
This tool is awesome
Love the features of the product and the quality. Great tool.
January 21, 2014
Amazing air chuck
Bought this air chuck after going through too many no name air chucks that were inaccurate. I am in love with this gauge! Very quick to read, very accurate and feels solid.
November 5, 2012
must have
I have no complaints about this product. It is a must have at the shop, especially with TPMS. All of the techs at my dealership use this gauge.
December 28, 2013
This product has great features
this product is compact enough to fit inside a drawer and not take up much space. It also allows me to quickly and precisely acheive my psi. I like that it has the automatic shut off display, it helps the battery last a long time. I will buy one for my house. The 20in hose comes in handy because it helps with arm fatigue by letting you control it at a comfortable level.
September 1, 2011
AWESOME
The digital tire inflator is one of the best additions to the Matco box I've made in a while, it's got a lighted digital display that's easy to read and a comfortable grip, the only bad thing is that the red rubber that incases the inflator gets dirty really easy, but if you can get past that, you have a really great tool
January 18, 2012
Greatest buy
Great tool use it everyday can't stand to use any other tire gauge!
August 28, 2012
Efficient Tire Inflator
Very handy tool and very accurate. I would recommend this to any tire or full service auto shop. At first I had doubts about a digital reader gauge, but this stands the test of time.
March 27, 2012
Great Tool
If you work in a shop this is a must have tool. Every car has tpms sensors and this makes life so much easier.
December 3, 2013
Sturdy Design
Easy to set up out of the box, rubber sheathing provides a good protection, and the 21" hose makes it easy to reach tire already hoisted. The automatic shutoff saves on batteries and in general it just feels like a high quality tool.
October 3, 2011
this product is great with great features
i use this tool everyday a must have very accurate
March 31, 2012
Best tire inflator
I bought this tire inflator about a month ago and love it. It make filling up tires easy especially if you have tire pressure monitoring system on your vehicle.
November 5, 2011
Great Buy!
This was a great buy and it is invaluable to techs
October 19, 2011
awesome tool
I love this air chuck. The digital air gauge is the best
October 9, 2011
dont get the screen dirty
item work well and accurate...only issue if u ever get oil or trans fluid, any automotive fliud on it..the screen will become hard to read and the rubber case will swell up...I think it great for home use but not everyday work use
October 17, 2013
The Best Tire Inflator
I saw this tire inflator at my new car dealership and I had to have one. It is the best I ever had. You will not regret this purchase.
May 23, 2013
Nice to have
This tool is nice to have. The numbers r big and accurate.
October 29, 2013
SHUTS OFF IN THE MIDDLE OF USE
YOU HAVE TO KEEP HITTING THE BUTTON TO KEEP IT ILUMINATED AND NEW AFTER A FEW MONTHS OF USE TH BATT IS DEAD AND THERE IS NO PLACE TO ACCESS IT. I GOT THIS GUAGE BEACUSE OF THE LARGE READOUT AND ACCURICY. SOME WHAT DISAPPOINTED AT $100.00+
May 30, 2013
DT4
Well i really like the tire pressure gauge except for the fact that it wouldn't turn on after a couple of weeks when i needed it at work. but i took it apart adn reseated the battery and it started working. although i think the hose should be more like 12 inches and the clip-on thing doesn't grab the velve stem all the way.
May 9, 2012
solid product
My only complaint is that the backlight doesn't stay on for more than 2 seconds. I guess that's done to save battery life but it's just a little bit annoying.
November 4, 2012