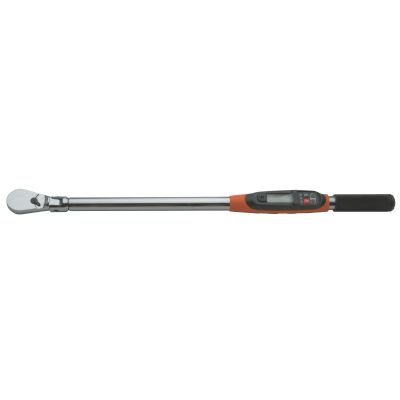 ETWC250F1/2" DRIVE ELECTRONIC TORQUE WRENCH WITH ANGLE
ETWC250F 1/2" DRIVE ELECTRONIC TORQUE WRENCH WITH ANGLE
Features & Benefits
Angle measurement eliminates the need for angle meters for applications specified by manufacturers
Four easy-to-use function buttons with buzzer and color coded lights to alert when target torque is achieved
Easy-to-read lighted LED display allows operator to view torque and then angle
Converts units automatically
Features 60 fine tooth mechanism that requires a small 6º swing arc
+/- 2% clockwise accuracy, +/- 3% counterclockwise accuracy from 10% to 100% of 250 ft. lbs. capacity
Return Policy *
Return for refund within: 30 days
Return for replacement within: 30 days
* Applies to purchases made on matcotools.com only; see your Matco distributor for warranty or return information on purchases made elsewhere.
Rated

3.9

out of

5

 by

8

reviewers.
Rated

5

out of

5
 by
chevy85
Best digital torque angle wrench out there
Performance is superior very accurate all around perfect 1/2 inch digital torque angle wrench.
February 14, 2014
Rated

4

out of

5
 by
DJPAT
Great torque wrench!
I work in a diesel shop and use this thing all the time. Many of the fasteners are at odd angles which makes the long handle and flex head a lifesaver. The angle feature on this wrench also saves time digging for a paint marker and marking everything to make sure you got your torque +angle right. I would rate this tool perfect except the beep is not very loud in a crowded diesel shop and it seems like the wrench takes a very long time to switch from torque to angle mode. Overall this is a great product, I highly recommend.
December 3, 2011
Rated

5

out of

5
 by
Kennybu
Speeds things up!
This is the tool that has changed the way I torque heads! No longer do I need an angle gauge that may slip or move. This does the initial torque and then angle. And it remembers where you are at when u you need to "get another grip." No more mistakes with the modern torque style head bolts. Easy to use and different alerts when torque/angle is achieved. Converts units and it's auto shut down feature saves battery life. Extra fine tooth and a great feel to the handle. This is a must have in every tech's Matco box.Kenn
December 3, 2011
Rated

2

out of

5
 by
CalLabMark
No up to par
Vance is correct. This tool is not made by Matco but is a re-branded GearWrench. This electronic wrench can only be adjusted at GearWrench in Texas (I called Matco customer service). Prospective buyers should consider future support before laying out hard-earned dollars.
July 3, 2013
Rated

1

out of

5
 by
vance
this wrench is garbage
I have had to warrenty this wrench 3 times and i've probably used it twice. As soon as i got it back from matco, I had to put more batterys in it because for some reason matco likes to keep my batterys. Once the batterys have been replaced, as soon as I turn on the wrench I find that the problem (not registering me putting torque on it) was gone, but now I can't even set the torque. The wrench is a time waster because if you don't wait 30 seconds after one bolt. It will think you are on the same bolt when you move to another one. It doesn't vibrate which is alright I guess its just hard to hear the beep in a loud shop. Finally, the plastic casing on it breaks fairly easily. Don't get me wrong though, I love matco tools. It's just this wrench and its little brother the 3/8" drive that i'm not happy with.
March 21, 2013
Rated

5

out of

5
 by
Brad29
Easy To Use
It is so easy to use! turn it on and set it no matter what you need foot pounds, inch pounds, newton meters, and of coruse angles. it has a lcd read out for live torque reading so u know where your at, and the same with the angles plus you can ratcet your angles which makes it simple.
December 11, 2011
Rated

5

out of

5
 by
DmaxTech
Best thing i have bought in YEARS!!!!!
I have had this torque wrench now for about 6 months. I did break the head gear shortly after I got it. I upgraded to the 88 tooth head (which I recommend doin for under 10$) This is a must have tool for heavy line tech.
March 16, 2012
Rated

4

out of

5
 by
Deleriousdave
Very convienient tool
I have not used this wrench a whole lot being that I haven't had it very long, but for the times that I have used it, it has proven to be a very convienient and easy to use torque wrench. The flex head makes it much easier to use in places where you couldn't use it without having to use a wobble adaptor or socket which isn't a good idea anyway with a torque wrench. The wrench can quickly be set to use ft./lbs, in./lbs, or Nm, and the angle feature is a time saver when you need to use it. The LCD display is lighted making it easy to read in dark places. The handle has an easy to grip steel handle that won't slip out of slippery hands. The wrench has a use counter built into the electronics so you can track how many times the tool has been used, but I have found that it does not count as described in the instructions. The counter is pre set at 5000 and it counts down to 0. Matco recommends that it be re-calibrated after every 5000 uses, however, it does not count properly. According to the instruction sheet, the wrench will count 25% of 1 use when used at below 25% of the wrenches max torque capacity, and 0.5 uses for every use when used at 50% of capacity, and 0.75 uses for every use at 75% of capacity and 1 use for 75% to max capacity. My wrench seems to count 1 use every time the wrench hit's capacity no matter where it's set, and every time the beeper goes off. So if I have to torque a bolt 3 times to get it to exactly where it should be because the beeper will go off before you actually hit the target value, the wrench will count 3 or 4 uses even though I only torqued one bolt. The LED lights let you know when you get close, but don't seem to be a big help because you actually need to keep your eyes on the LCD and watch the actual torque because if you stop when the beeper goes off, you will be a little below your target value. Other than this counter issue, the wrench is a great tool. Just keep your eyes on the LCD and forget about the lights and the beeper. It would be nice if the beeper went off when you actually hit the target value. I'll have to contact Matco to see if maybe I have a defective beeper. Other than this issue the wrench is a very good quality tool and very convienient and easy to use. No more wrist wrenching with a micro wrench makes it nice too!
June 29, 2012