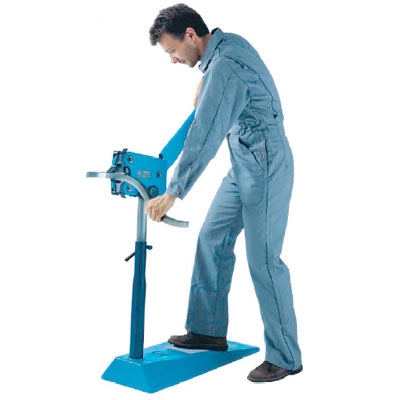 F2AV10-16 HANDFORMER LESS
Features & Benefits
The Eckold Handformer consists of a pedestal, column and head.
The jaws are activated by pressing down on the lever.
The quick-change holders on the jaws eliminate down time so the Handformer is always ready for use.
Part# F2AV10-14 includes one set of standard shrinking and stretching jaws - FWA405SSP and FWR407SSP.
Specifications:<br> - Weighs 69lbs.<br> - Reach when shrinking and stretching - 3.150"<br> - Gap when shrinking and stretching - 2.362"<br> - Adjustable work height - 32.680" to 44.490"
Working capacity: <br> - Steel of deep-drawn quality - 0.059"<br> - Light metal - 0.079"<br> - Stainless steel - 0.059"
Great for shrinking, stretching, punching, bending and notching.
Return Policy
Return for refund within: Call Customer Service
Return for replacement within: 30 days