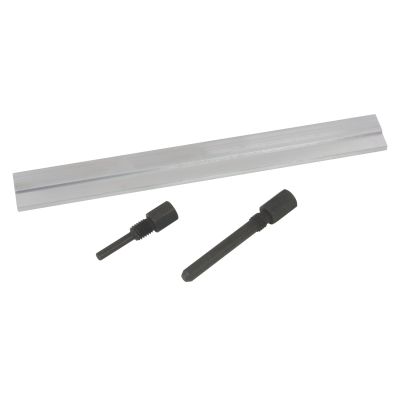 FCSA10FORD CAMSHAFT ALIGNMENT KIT
FCSA10 FORD CAMSHAFT ALIGNMENT KIT
Features & Benefits
When servicing the timing belt chains head gaskets or other valve train repairs on Ford Mercury and Mazda vehicles it is recommended to use the camshaft alignment kit.
The alignment kit comes with an aluminum camshaft bar plus one short TDC timing pin and one long top dead center pin.
The long TDC timing pin is used with 2.0L DOHC Zetec engines found in Contour Mystique 1994-2002 Focus and Mazda's.
The short TDC timing pin is used with 2.5LDOHC 2.3LDOHC 4V and 2.0LDOHC engines that are found in Ranger Fusion/Milan/MKZ 2005-2011 Focus Escape/Mariner/Hybrid and Mazda's.
The camshaft alignment bar can also be used by itself on 2.0LDOHC engines in Ford Probe 1993-94.
Return Policy
Return for refund within: 30 days
Return for replacement within: 30 days