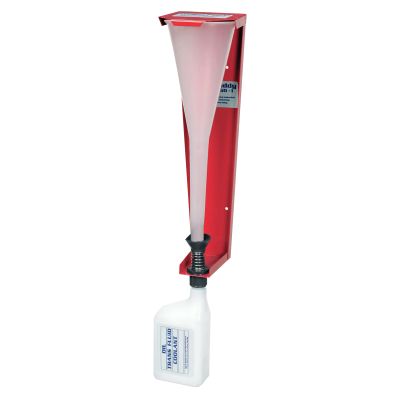 FNNLBDY FUNNEL BUDDY
Features & Benefits
No more dirty funnels dripping oil and other fluids on the floor.
This handy funnel "Keeper" can be mounted on any vertical surface: work stations, cabinets, wall, tool boxes.
The long, translucent funnel is held in place with a spring and any fluids left in the funnel drain into a 1-quart translucent plastic bottle.
The top of the Funnel Buddy serves as a lid to keep dust, dirt, and other debris from entering the funnel.
The funnel is made of high quality plastic and the fixture is made of steel.
Return Policy
Return for refund within: 30 days
Return for replacement within: 30 days
must have for every shop
Everyone needs one of these they are awsome no kore cleaning out funnels or cleaning up after it either
October 19, 2011