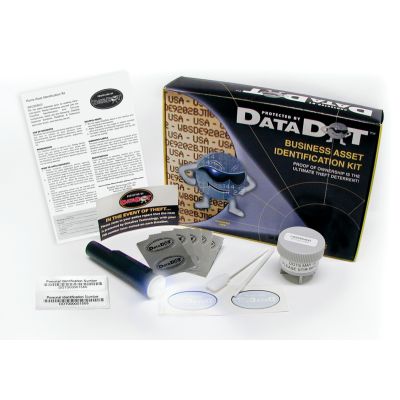 JRHBT001DATADOT HOME/BUSINESS ID KIT
JRHBT001 DATADOT HOME/BUSINESS ID KIT
Features & Benefits
DataDots mark home and business assets with a unique PIN that proves ownership and deters theft.
DataDots in the Home /Bussiness Asset ID Kit are 1 mm in size. (similar to a grain of sand)
DataDots are laser-etched with 15 lines of alternating information. One line is the PIN number and the other lines is the website URL where customers go to register their PIN in the International DataDot Database.
Information on the dot can be read with a 50x magnifier.
Customers register their PIN on the International DataDot Database, which is used by law enforcement and insurance investigators to find true owners of stolen property marked with DataDots.
Each DataDot Home/Business Asset ID Kit comes with inventory software that can be downloaded from www.DataDotUSA.com. Just click on the link at the end of the online PIN registration process.
DataDots are a significant theft deterrent because property marked with DataDots is difficult to fence.
DataDots in the Home/Bus Kit come pre-mixed in a water-based adhesive and are applied using a brush or foam brush. (Included in kit) The adhesive contains a UV trace that fluoresces under UV black light, police can wave UV light over property to find dots
Each kit contains decals warning thieves that your property is marked for POLICE IDENTIFICATION with DataDot Technology.
Return Policy
Return for refund within: Call Customer Service
Return for replacement within: 30 days