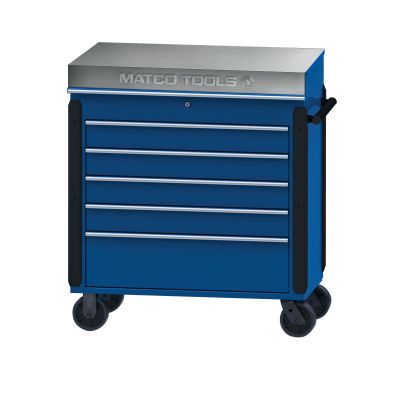 JSC750-DBCLARGE HEAVY-DUTY SERVICE CART SAPPHIRE BLUE W/ CHROME TRIM
JSC750-DBC LARGE HEAVY-DUTY SERVICE CART SAPPHIRE BLUE W/ CHROME TRIM
Features & Benefits
Fully welded unibody double wall construction provides increased load capacity, strength and rigidity
Comes standard with a flip-up lid and stainless steel work surface that handles loads up to 200 lbs. with 1,000 lbs. of overall storage
Over 22,000 cubic inches of mobile, lockable storage
Single TuBar® lock will lock and unlock drawers and lid without needing interior access
40.75'' x 46.25'' x 22'' (W x H x D)
Color: Sapphire Blue with Chrome handles; JSC750 carts 15 colors available
Return Policy *
Return for refund within: 30 days
Return for replacement within: 30 days
* Applies to purchases made on matcotools.com only; see your Matco distributor for warranty or return information on purchases made elsewhere.
LARGE HEAVY-DUTY SERVICE CART SAPPHIRE BLUE W/ CHROME TRIM
34
34
Overall a great, massive cart but could use a couple of changes.
For a roll cart, this thing is massive, which is a very good thing. There are 3 things I would change which is why I can't give this cart a 5 star rating. First, the lid doesn't open to a full vertical position. On my past service carts I used magnetic wrench holders and such. The slightly angled forward position will prevent me from doing so. Second, the screw driver / pry bar holes in the sides need a better variety of sizes. My big pry bars and 1/2 drive extensions won't fit. Third, I would like the top drawer level to be split into 2 drawers side by side.
November 3, 2011
Gorgeous! great quality
I just got my pale horse white one in yesterday and it is just stunning. It looks like it belongs in an f1 garage. I just upgraded from a Snap on 4 drawer( 2 at the top and 2 big drawers) with a side shelf and a side chemical holder.. those 2 things are all this cart is missing to be perfect. pictures dont do it justice.. it is HUGE! its only about 1' less then a 4s double bay for half the price. buy it you wont be dissapointed. and if you want to open the lid higher just drill some holes lower and relocate the shocks.
December 7, 2011
Great Box for the money
I have been looking for a new box and this was a great compromise between big money and features/quality. The only bad thing about it is the lack of variety in the pry bar holders. It would be great to have a bolt on one made for the cart so that one can store ratchets, extensions and the like. The second week I bought this cart I put it on a trailer and took it for a 100 mile round trip full of tools and all I can say is wow. I thought I would have a mess when I got there but every thing was where I left it, with the exception of the screw drivers that I have stored in the pry bar slots.
June 2, 2012
sharp looking, versitile.
i had been toying around with the idea of buying one of these for the past few months or so, even though it was less than a year ago i purchased my triple bay 4s matco box. i took the plunge today and purchased one of these, (just so happens my rep ordered the one i wanted months ago because he knew i wanted one) essentially im going to use it as a side addition to my 4s. i wouldnt be afraid to wheel this cart around, its beefy. i have absolutely no buyers remorse after this purchase, its a great addition, sharp looking, lots of storage, if you've been contemplating getting one of these, man up. you wont regret it
March 6, 2012
very nice and worth the money
just bought my new jsc750cart . Stealth black ,looks sick, love the room and the five drawers are perfect for organizing all your tools, i like the power cord hole in the top for charging all my electric tool and keeps them safe from others! The only con to the cart is if you move it alot only 2 casters swivel! so you my look for upgrades.. overall i think its a good investment for your lively hood!
January 27, 2012
pretty stout for a cart
just got mine today and so far i'm very impressed!The drawers are roomy and the liners lock everything where u put it in fact i tried gettin things to move around closing a couple of drawers kinda hard but NOTHING BUDGED!over all plenty of room love the blue and stainless feels well built, and the best part every one else in the shop wants one,but they can get their own haha.definately recommend
November 8, 2011
Best bang for the buck out there. Awesome cart.
I had a typical three drawer cart but this cart is so much bigger and has so much more storage. Upper lid area is so much deeper I can close the lid with magnetic trays stuck to the lid and it clears everything without removing it. Rolls nice and is a very solid cart. Basically a single bank toolbox with a lift lid. Well made and solid.
October 29, 2012
the product looks wonderful and holds up great
The blue/chrome stock cart is a wonderful advantage for tools. It keeps things well organized, and everything has its place. The only thing is that if you have more than the max tools, you will need a bigger one. So if you were to ask me, I would say yes, you should indeed get one for yourself. Or for those wives out there that are looking for the perfect gift, here it is.
December 1, 2011
I HAVE A PINK ONE
My matco distributor (tool truck) bought one of these buy pink with black trim! Selling raffle tickets, all proceeds went towards breast cancer awareness! I won the tool box (service cart above) and I couldn't be any happier! This box has everything you could ask for in a service cart!!
October 11, 2012
Great cart
Bought this cart but beare if u have stainless top if u move it strap top down my stainless top blowed off it is poorly 2 sided taped to to will not stick so if u want it to stay on during moving it strap over the top lid or u will loose it other than that great cart awesome storage .
September 29, 2012
The best tool cart!!!!
It is byfar the best tool cart I have ever used. It holds up great, the shelves glide nice and smooth. It also holds up to all of the weight I have set on it. Wheels with 37'' tires arent light and transfer cases aren't either. Helps me with every use around the shop! Holds tools and moves parts with ease!!! A must have!
November 9, 2011
lot of space!
I got the white with black trim and overall like it alot. It has plenty of space and easy to move. The stainless top is nice however mine is kinda loose on the corners (nothin a lil 2 sided tape wont fix) but shouldnt have to that soon. For the price definently the best for its price tho.
December 6, 2011
Awesome ammount of space!
I just purchased one of these carts and I cant say enough about the space ! I will be buying another one for the garage at home.
December 28, 2012
This cart is great.
I use this cart every day, and I am abusive. But it holds up to the abuse. As a heavy duty diesel tech this cart exceeds my expectations for every feature. Especially the storage. I recomend this to anybody, because no one can seem to do as much damage to thier boxes like I can. lol
December 11, 2011
Best money ever spent!!! Great value and buy
Have had my stock cart for over 6 months now and wont by anything else. This box is great for mobile working and roadside service. 7 months ago i had a little 12 inch box, now that i have the stock cart i know im always prepared for anything!! Looking to buy another in janurary.
December 17, 2011
Very useful Product
I purchased this to be able to move around the shop a little easier. I have a triple bank box and it was to much to be pulling all over the shop. I very happy with this unit and I would not hesitate to purchase it again.
August 5, 2012
great box 4 the price
I got my box 2day I love the only thing it needs is small drawers 4 the first shelf. I removed the plastic covering from the chrome drawer handels and it peeled the chrome off 3 of them but other than that its great......
December 2, 2011
Wonderful Box
I have had mine a month and it is perfect except for one thing. Should of come up with a better way to attach the side bump guards. But overall the box is perfect. Well played Matco, Well played....
December 14, 2011
Totally Awesome box
The deep blue paint looks awesome, the fit and finish is top notch. the caster wheels make the cart roll really easy and have a locking caster. I'm in love with my new box.
December 10, 2011
Fantastic cart
Rolls great. Size more than adequate. Love the SS top. Drawers glide nice and smooth. I have no issues with how far the lid opens on this cart. Great quality for the money.
November 14, 2011
goood product
what i dont like is the box doesnt open all the way its at an angle. and from what ive asked there is no box cover.
November 14, 2011
The cart is your box on wheels!
The Cart works great, tons of drawrs for specialty tools or your own, or whatever project your working on.
November 30, 2011
Plenty of room
This product is easy to move and holds a lot of tools. I use the top to work on. I recommend it.
December 17, 2011
pretty beefy but a good starter cart
I use this for my day to day and this thing is holding up great considering I abuse it pretty hard
November 20, 2011
awesome cart
This cart gets the job done I use on a daily bases , sturdy and very secure for my tools
November 29, 2011
Can't buy better tool boxes then Matco
Well made, great finish, the best tool boxes you can buy.
December 23, 2011