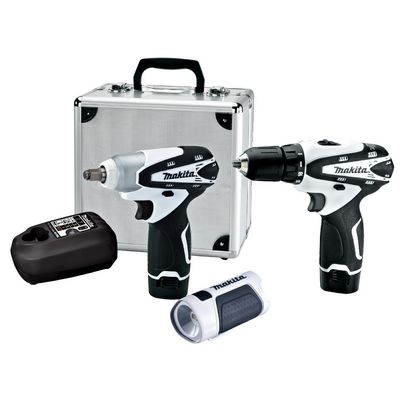 LCT309W12V LIT-ION 3 PIECE AUTO KIT
LCT309W 12V LIT-ION 3 PIECE AUTO KIT - Features & Benefits
Includes: WT01W - Variable speed 3/8 drive Impact Wrench (0-2,400 RPM & 0-3,000 IPM) provides 880 in.lbs. of Max Torque at only 2.2 lbs.
FD02W - 2-Speed 3/8" Driver-Drill (0-350 & 0-1,300 RPM) delivers 200 in. lbs. of Max Torque in an ultra compact size of only 2.2 lbs.
LM01W - LED Flashlight runs up to 9 hours on a single charge
Built in LED light to illuminate the work area.
12V LIT-ION 3 PIECE AUTO KIT
4
4
Powerful, Quiet and sleek Best bang for buck
I recently acquired this new set and in a week its seen more than enough use. The power of the drill and impact are great. The operation is smooth and fluent (no loss of power feeling). It charges pretty quickly and the batteries life is amazing. Its a must have in small application work. The lights on the head of the guns work great and are very bright eliminating the need to juggle a flashlight in your other hand. Only downfall to this set is that its white and we get pretty dirty in our field as auto techs. Hopefully your shop gets spray nine like mines does bwahaha, but enough of the chitter chatter. What are you waiting for get this set now. You wont regret it. Matco you did good with this one. Special thanks to my tool dealer Jim.
March 21, 2013
Big things in small packages
After having used a snap on 9.6 and then a 12v, I was skeptical even thou Mikita is known to me as a good product. All I can say is snap who? This little powerhouse is awesome.
November 24, 2012
lots of power for being so compact.
I use this everyday,most of the time in place of my air ratchet. it has cut so much time on jobs, i cant imagine a day without it. The drill iit comes with is slightly underpowered for i what i need but its a nice addition to the set. The impact doesn't do so well on seized bolts, especially suspension bolts. But i suspect that asking to much of the 100ft.lb. this gun is capable of. ***this tool is as important to me as my ratchets, i strongly recommend it! My only complaint is that they made it white...
March 11, 2012
small and powerful
the tools are small and lightweight and plenty of power. long lasting batteries. wanted a compact 3/8 impact but has power of a full size without the bulk.
September 29, 2011