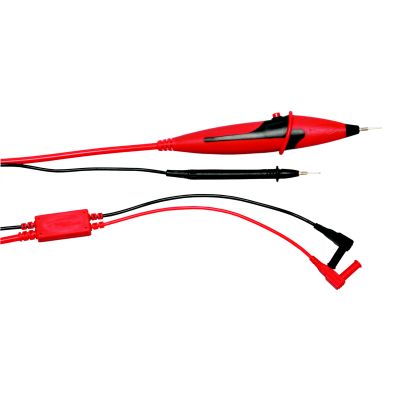 LOADPRO100 LOADPRO
Features & Benefits
LOADPRO finds these problems fast-high corrosive resistance, short to ground, open circuits
These dynamic test leads allow you to perform voltage drop tests with the push of a button.
Applies approximately .5A load to a 12 Volt circuit.
Works with your existing DMM.
This simple test finds problems in corroded wires/connections and shorts to ground.
Features SteadyPinpProbe tips allows the probe tip to sit firmly on a male ECM or connector pin.
Return Policy
Return for refund within: 30 days
Return for replacement within: 30 days
Great for electrical and electronics diagnostics
This tool makes finding electrical problems easy. You can use it to find bad power and ground circuits on multiplex systems, can use it to verify a ground side output led is working on a multiplex card, can use it as a substitute load to fool computers that it has a complete circuit so it will give you full system volts and not just bias voltage. You can also use it to individually load test wires by putting the positive lead on a battery source and then applying the negative lead to the wire you are testing and then have the other end of the wire grounded. Push the button, if voltage doesn't drop your good. Another nifty thing I have learned with this tool is you can use it in conjuction with a scanner. With this test you can verify that the computer is seeing ground. Hook up the positive lead to the wire you want to test, put the black test lead to ground. If you have voltage, push the button and watch for the voltage to pull low and watch the scanner screen to see if there is a change. If it changes then you know that this circuit is good and carry current. This is a great tool and I highly reccommend it. I have used a lot of diffrent test tools over the years and this is by far the best one to use.
September 3, 2011
A must have tool for electrical and electronic diagnostics
This tool is a great test accesory to your Digital Multimeter. It has helped me find corrosion in circuits with the load it applies to the circuit. What I like about this tool the most is that you are using voltage drop to test the circuit. Using a ohm meter can fool you. You can have one strand of wire together and show continuity, but can it carry current? I have used this tool to check for bad PLC inputs and outputs by checking a voltage feed with the load of the tool. If it doesn't drop, your good. Also can be used on a ground side output by touching the loadpro positive lead to the output ground, then ground your negative lead and then push the button. If the led lights up on the PLC, your good. Also works the same way on any multiplex system. I used it on a Thermo King Air Conditioning clutch circuit by fooling the computer with the leads to give me full system volts so I could check the integrity of the harness. If the computer senses a circuit problem, it takes away full sytem volts and all you have is bias voltage, the voltage the computer uses to sense faults. I fooled the computer with these leads and I figured out the problem in less than five minutes. There was a open in the clutch wire. I just recently used it to verify idle validation switch status on a cummins ISL engine by checking the voltage at the off idle wire and then loading it and watching the lap top for a change in validation, the voltage dropped, indicating a good ground, and the status changed! Indicating that the circuit is good! I am a proffesional Transit bus Technician with 14 years experience and in all the years I have been doing diagnostics, I have never seen a diagnostic tool so easy to use. I highly recommend this tool. Michael John Eilbracht Technican ASE Master in Transit, Auto, Heavy Truck, certified Vehicle Electronics Technician (VET) ASE Certified L2 specialist
September 2, 2011