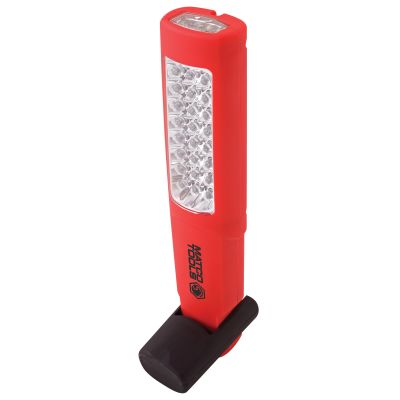 M24LED 24 LED WORK LIGHT
Features & Benefits
24 LED light also includes additional 6 LEDs on top that act as a torch.
A magnetic base allows for easy mounting to tool box or other metal surface or two over-sized hang hooks to allow hands free use.
Includes built in rechargeable Lithium battery with 4 hour charge time.
Continuous runtime: On 24LEDs - 5 Hours; On 6LEDs -18 Hours
Return Policy
Return for refund within: 30 days
Return for replacement within: 30 days
Simply Great
I was first exposed to this light in November of 2012, at the shop I was working at. My boss had picked it up on a whim. I fell in love with it from the get go. Fast forward to me working on my own, and it was a must have purchase. ONE TIME have I run the batteries down during the course of a day. But it's best point is the bendable magnetic base. Hands free working with all the light I need. I never fathomed paying $75+ for a work light, but this was worth every penny.
April 5, 2013
cheaply made
I've had this light for 2 years, had to get it warrantied once, the magnet is terrible, is always falling off and hitting me in the face when I'm beneath a vehicle. If I use it all day long, it dies about 2 hours before time to go home. and the hooks on the end never want to stay in the stowed position.
April 25, 2013
love this light! Use it everyday
so many ways to mount so you can always see what your doing
May 7, 2013
worth your money
great product! only beef i have is that its not made in America. other wise its great. untill you buy it and use it you will not understand how usefull it is. durable to! just dont try to clean it with anything like brake clean it will ruin the lenz FYI.
September 18, 2012
love it!
Such a handy light. Very strong magnetic base. Never a problem angling the ligh with the piviting base,hooks and the back magnets. Only complain I could say is that I wish the charging cord was on the side and not on the back. Also wish the buttons were easyer to push. This light is much handier and more versitle then any other light I have seen. A must have for and bodyman or mechanic
November 13, 2011
very durable
My light has been ran over by a car, little black tape and it still works great. I had to re tape magnet back in base a couple times thats it. Thinking about buying another for the shop at home.
January 28, 2013
awesome light.
i do a lot of transmission work and have dropped lights millions of times during re and re.. most lights can only take a few good falls and they're done. in the past 6 months i have dropped this light one time and it fell from my own hands. the base magnet is strong and attaches well to most components. if i had to point out one flaw it would be the swivel at the base, mine still works but has defenitely weakened over time. if i had to buy another light tomorrow i would get this one again without a second thought.
February 11, 2012
best light i have ever owned
this lights is amazing , extremely bright , its durable , the battery life is amazing and the magnet is strong enough to hold to any metal surface , i highly recomend this light
June 4, 2012