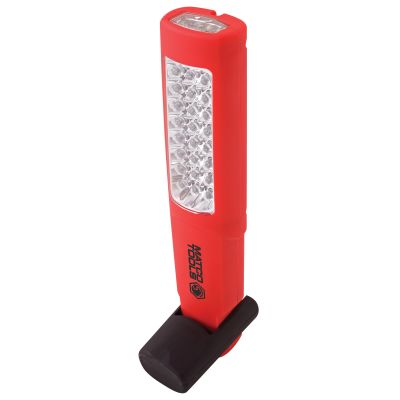 M24LED 24 LED WORK LIGHT
Features & Benefits
24 LEDs with an additional 6 LEDs on top that act as a torch.
Allows hands-free use with a magnetic base that easily mounts to a toolbox or other metal surfaces and the two oversized hang hooks.
Continuous runtime: ON 24 LEDs - 5 hours; ON 6 LEDs -18 hours
Includes built in rechargeable Lithium battery with 4 hour charge time.
Return Policy *
Return for refund within: 30 days
Return for replacement within: 30 days
* Applies to purchases made on matcotools.com only; see your Matco distributor for warranty or return information on purchases made elsewhere.
Rated

4.5

out of

5

 by

16

reviewers.
Rated

5

out of

5
 by
Rocky
Best Light ever
I use cordless lights all the time and bought this one after my matco man told me about it ...Have had it about 6 months and love the light works anywhere and anytime haven't had any issues with it ..Its very bright and sturdy so much I bought a second one for backup
February 14, 2015
Rated

4

out of

5
 by
laneville
Love this, but....
I absolutely love this light it shines very bright and the magnet is awesome and the double hook is great also the battery last a long time.... However, my ONLY complaint with this light is the studiousness of the magnet hinge wears out pretty fast if your using it every day. otherwise great product!!
January 5, 2015
Rated

2

out of

5
 by
Chuckwgn
Bright lite but weak plastic
Very strong magnet works great for hanging lite but I've had 2 of these that the magnet has broken out of the bottom of the plastic base.
January 23, 2015
Rated

5

out of

5
 by
MikeBfromBloomington
Used for a year. Purchased a second one.
Dropped in antifreeze. Melted on hot exhaust. Put through the worst conditions and it still works. The main light still works great but the top light doesn't work well anymore but I use it every day. I now use my old one under the hood and under the car. I bought a second one to keep clean and use inside the car. Great magnet in the bottom that eventually pulled through the plastic but epoxy glued it back in place. BEST DROP LIGHT I'VE EVER HAD!
January 19, 2014
Rated

5

out of

5
 by
manholea
awesome light.
i do a lot of transmission work and have dropped lights millions of times during re and re.. most lights can only take a few good falls and they're done. in the past 6 months i have dropped this light one time and it fell from my own hands. the base magnet is strong and attaches well to most components. if i had to point out one flaw it would be the swivel at the base, mine still works but has defenitely weakened over time. if i had to buy another light tomorrow i would get this one again without a second thought.
February 11, 2012
Rated

5

out of

5
 by
Fastbird
Simply Great
I was first exposed to this light in November of 2012, at the shop I was working at. My boss had picked it up on a whim. I fell in love with it from the get go. Fast forward to me working on my own, and it was a must have purchase. ONE TIME have I run the batteries down during the course of a day. But it's best point is the bendable magnetic base. Hands free working with all the light I need. I never fathomed paying $75+ for a work light, but this was worth every penny.
April 5, 2013
Rated

5

out of

5
 by
jonh88
The light you never knew you must have.
I bought mine 2 years ago off the truck, I worked as an electronics engineer for the oil field company. (Can't say the name) but this thing was always with me! It gave me the ability to no matter what have both hands free, light were I needed it so I could do complex small detail wiring soldering and networking, under units above in and around them. I've dropped it several times no issues. Lots of chemicals on it and a quick swipe of simple green and good as new. The top touch is really useless to be honest. If I need that I'd use my tactical stinger flash light which is much brighter. But for free hand work you can't touch this light. My favorite trick was to use the magnetic base attach it to the bar on my creeper next to my head. And no mater were I rolled under the equipment the light was perfectly in place. Hands free. I lost mine about 5 months ago and holding out to find it I am now today after this review breaking down and ordering a new one. Just because it's the work light I never knew I needed until I had it. Now with out it I'm just frustrated lost and fixing it today buy buying a new one period end that should tell you something their alone. This would be perfect for mechanics. Electricians, network professionals working in servers and cabinets or plentums. Or any one that repairs or works on vehicles them selfs in their garage. Weather for money or to just keep their personal veh. Running. My main complaint Is the 3.5-4 hr run time but for most jobs it's plenty of time to do wats needed. If I recall it come with both a 110v charger and a 12 cigaret lighter charger so professional driving to different jobs won't have to worry about that much as it can be charged up on you way to you next job. For me I worked in a central maitnace facility 12 days. So I'd use it and turn it off. Charge it up off and on thru the day and during lunch. Keeping me in the light almost all the time! My other complaint was no charging stand but I would bend the magnet 90* attach it to the side or back of the tool box and plug it in. Enough said if you have read all of this review then your looking for a good light and this is cheaper in price then main other lights of theirs so just buy it. You can always return it if you don't like it. I'm re buying mine in about an hr when customer service opens. Jon
February 25, 2014
Rated

1

out of

5
 by
mrerob
cheaply made
I've had this light for 2 years, had to get it warrantied once, the magnet is terrible, is always falling off and hitting me in the face when I'm beneath a vehicle. If I use it all day long, it dies about 2 hours before time to go home. and the hooks on the end never want to stay in the stowed position.
April 25, 2013