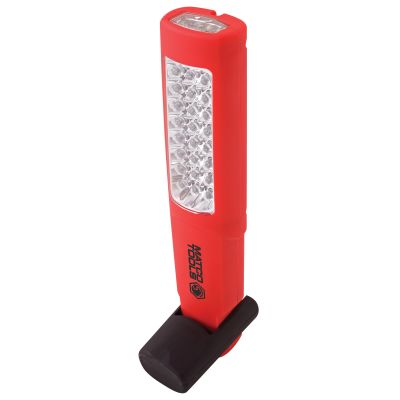 M24LED 24 LED WORK LIGHT
Features & Benefits
24 LEDs with an additional 6 LEDs on top that act as a torch.
Allows hands-free use with a magnetic base that easily mounts to a toolbox or other metal surfaces and the two oversized hang hooks.
Continuous runtime: ON 24 LEDs - 5 hours; ON 6 LEDs -18 hours
Includes built in rechargeable Lithium battery with 4 hour charge time.
Return Policy *
Return for refund within: 30 days
Return for replacement within: 30 days
* Applies to purchases made on matcotools.com only; see your Matco distributor for warranty or return information on purchases made elsewhere.
Best Light ever
I use cordless lights all the time and bought this one after my matco man told me about it ...Have had it about 6 months and love the light works anywhere and anytime haven't had any issues with it ..Its very bright and sturdy so much I bought a second one for backup
February 14, 2015
Bright lite but weak plastic
Very strong magnet works great for hanging lite but I've had 2 of these that the magnet has broken out of the bottom of the plastic base.
January 23, 2015
Love this, but....
I absolutely love this light it shines very bright and the magnet is awesome and the double hook is great also the battery last a long time.... However, my ONLY complaint with this light is the studiousness of the magnet hinge wears out pretty fast if your using it every day. otherwise great product!!
January 5, 2015
love it!
Such a handy light. Very strong magnetic base. Never a problem angling the ligh with the piviting base,hooks and the back magnets. Only complain I could say is that I wish the charging cord was on the side and not on the back. Also wish the buttons were easyer to push. This light is much handier and more versitle then any other light I have seen. A must have for and bodyman or mechanic
November 13, 2011
worth your money
great product! only beef i have is that its not made in America. other wise its great. untill you buy it and use it you will not understand how usefull it is. durable to! just dont try to clean it with anything like brake clean it will ruin the lenz FYI.
September 18, 2012
Great tool
This is the best light I have ever had. I have been wrenchin a long time and have used a lot of lights and this is heads above all. Can not go wrong.
May 16, 2012
Used for a year. Purchased a second one.
Dropped in antifreeze. Melted on hot exhaust. Put through the worst conditions and it still works. The main light still works great but the top light doesn't work well anymore but I use it every day. I now use my old one under the hood and under the car. I bought a second one to keep clean and use inside the car. Great magnet in the bottom that eventually pulled through the plastic but epoxy glued it back in place. BEST DROP LIGHT I'VE EVER HAD!
January 19, 2014
awesome light.
i do a lot of transmission work and have dropped lights millions of times during re and re.. most lights can only take a few good falls and they're done. in the past 6 months i have dropped this light one time and it fell from my own hands. the base magnet is strong and attaches well to most components. if i had to point out one flaw it would be the swivel at the base, mine still works but has defenitely weakened over time. if i had to buy another light tomorrow i would get this one again without a second thought.
February 11, 2012