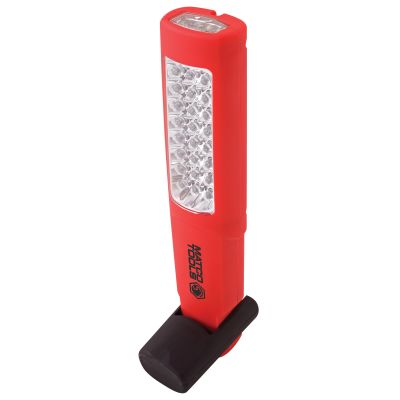 M24LED 24 LED WORK LIGHT
Features & Benefits
24 LED light also includes additional 6 LEDs on top that act as a torch.
A magnetic base allows for easy mounting to tool box or other metal surface or two over-sized hang hooks to allow hands free use.
Includes built in rechargeable Lithium battery with 4 hour charge time.
Continuous runtime: On 24LEDs - 5 Hours; On 6LEDs -18 Hours
Return Policy
Return for refund within: 30 days
Return for replacement within: 30 days
awesome light.
i do a lot of transmission work and have dropped lights millions of times during re and re.. most lights can only take a few good falls and they're done. in the past 6 months i have dropped this light one time and it fell from my own hands. the base magnet is strong and attaches well to most components. if i had to point out one flaw it would be the swivel at the base, mine still works but has defenitely weakened over time. if i had to buy another light tomorrow i would get this one again without a second thought.
February 11, 2012
best light i have ever owned
this lights is amazing , extremely bright , its durable , the battery life is amazing and the magnet is strong enough to hold to any metal surface , i highly recomend this light
June 4, 2012
Great tool
This is the best light I have ever had. I have been wrenchin a long time and have used a lot of lights and this is heads above all. Can not go wrong.
May 16, 2012
An excellent all around work light, I wish this light came out years ago!
The base magnet is very strong. The hooks and magnets on the back are great can be used as an overhead light in a cabinet or hutch.I never leave home without it! If you don't have one I highly advise you get one. The only things I would change is the location of the charge port to the side as well as the switches.
January 10, 2012
Very versital, easy to find when off.
I have lost lights under hood before, black and blue are not good colors to see in dark under carriages. My new Matco light is bright red and easy to find after my job is done. The three magnets hold on tight and the LED's are very bright. Recharge time is quick. If you need a good light pick this one up!!!
November 12, 2011