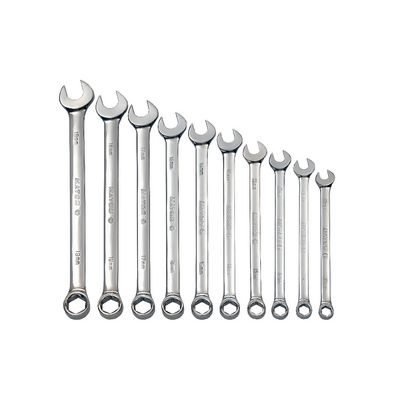 MCL10M610MM LNG MOD COMBO WRENCH-6 PT
MCL10M6 10MM LNG MOD COMBO WRENCH-6 PT
Features & Benefits
New Opti-Torque Pro (TM) modified open end reduces tip spread by 50% and applies 25% more torque to fastener than competition's core line of combo wrenches without rounding corners.
Higher hardness, high alloy material reduces tip spread and wear on open end.
Ergonomic beam for professional use. Increased comfort to apply more torque and reduce fatigue.
Opti-Torque (TM) Box End applies load to fastener flats (not corners) for MORE strength.
Full polish chrome finish makes for a quality wrench that is comfortable to use and easy to clean.
Return Policy
Return for refund within: 30 days
Return for replacement within: 30 days
10MM LNG MOD COMBO WRENCH-6 PT
1
1
Excellent fit and finish
I purchased several wrenches to fill holes in an existing wrench set. Typical of Matco service and quality, the wrenches arrived within a day or two and they are gorgeous. The Matco stuff in my tool box is like garage jewelry. I have never broken or damaged a Matco wrench and doubt this wrench will have any issues. Now, if I could just keep my buddies out of my tool box.....
December 28, 2012