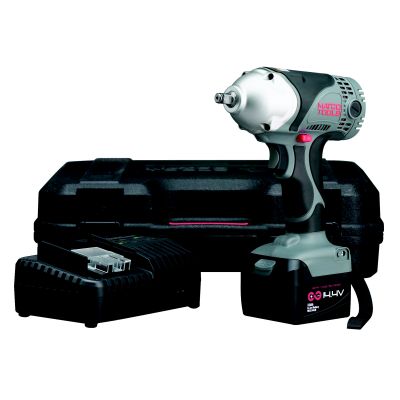 MCL144IWHOK14.4V CORDLESS INFINIUM 3/8" IMPACT WRENCH KIT
MCL144IWHOK 14.4V CORDLESS INFINIUM 3/8" IMPACT WRENCH KIT - Features & Benefits
High output drivetrain with larger clutch and best power-to-weight ratio of any 3/8" cordless impact
Replaceable carbon brushes for prolonged motor life
Precise variable-speed trigger with one-hand forward/reverse switch and LED light
Short overall length and small foot-print for superb accessibility
Kit contents: 14.4V 3/8" impact wrench 3.0Ah lithium battery 14.4V universal charge
Kit contents: (1)MCL144IWHO Impact Wrench (1) MCL144LBE Lithium Battery and (1) MCLCHRG Universal Charger.
14.4V CORDLESS INFINIUM 3/8'' IMPACT WRENCH KIT
16
16
Excellent addition to your tool box
This impact is awesome. It has allowed me to be able to work faster at work and at home. It is reasonably lightweight, and easy to maneuver without being hindered by an air hose. The battery life is excellent, and the battery indicator is quite useful as well. The charging time is great. You could probably get away with only having one battery. I have used it to remove bell housing bolts, crank pulley bolts, and it has yet to let me down. It has plenty of power for most needs.
April 4, 2013
highly recommend! !
I used it in the shop for a week or so, then I had to use it in the junkyard. This tool rocks. Saves me tons of time, and abuse on my hands. Battery life is awesome.
November 17, 2012
Glad I made the switch!
I recently switched from the SO cordless impact that I've had for a few years. It handles the workload so much better. Little things like the brake bracket bolts that the SO wouldn't get off the Matco kicks right off. Even takes off wheels when my 1/2 Infinium is out of reach.
November 2, 2012
Great Tool, It saves a lot of time.
I make a living with my tools as do most of you on this site. I prefer this impact over the Snap-On that I owned. I have owned this impact for nearly two years now and it still holds up to daily use as well as the day I bought it. I have been impressed.
April 24, 2012
Works Great
I do mobile auto repair and it saves me a lot of time and hassle
March 19, 2012
Little power house!
The battery last all day long. More powerful than I thought.
March 3, 2012
Best tool to have!
I bought this impact wrench so i can perform jobs that i have no access to power outlets. No matter where i'm working, on the rentals, out behind the shop or just doing odd jobs around the house this tool is the best! It has amazing power & torque and the battery meter is a awesome feature. The battery life is outstanding & i will always recommend this tool to everyone.
November 10, 2011
Great Torque
I do alot of work on equipment out in the field away from the shop and I can always count on this impact to do a great job. The battery lasts forever, even in cold weather. Breaks loose old rusty bolts everytime. Thanks for making a tool worth the money. Nice change of pace these days
December 13, 2011