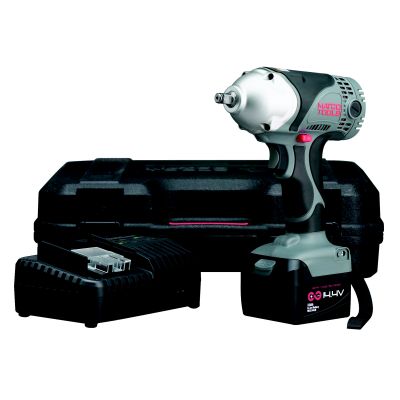 MCL144IWHOK14.4V CORDLESS INFINIUM 3/8" IMPACT WRENCH KIT
MCL144IWHOK 14.4V CORDLESS INFINIUM 3/8" IMPACT WRENCH KIT - Features & Benefits
High output drivetrain with larger clutch and best power-to-weight ratio of any 3/8" cordless impact
Replaceable carbon brushes for prolonged motor life
Precise variable-speed trigger with one-hand forward/reverse switch and LED light
Short overall length and small foot-print for superb accessibility
Kit contents: 14.4V 3/8" impact wrench 3.0Ah lithium battery 14.4V universal charge
Kit contents: (1)MCL144IWHO Impact Wrench (1) MCL144LBE Lithium Battery and (1) MCLCHRG Universal Charger.
14.4V CORDLESS INFINIUM 3/8'' IMPACT WRENCH KIT
16
16
Best Tool in my box
I bought this impact wrench set to use for little odds and ends but mainly for light engine mechanics.but this tool has proved to be more than enough to do the job.if i can get that impact wrench in a spot to take a bolt or nut off then 9 times out of 10 itll take it off.i use this tool EVERY SINGLE day.it saves me time and has made me lots of money.the battery life is amazing.it keeps its torque until the battery is completely dead.I recommend this tool to ANYONE,even if you don't work in a shop and you just work on your own cars at home.it helps more than any tool you can buy,i even got my dad to buy one and he's so old fashioned that he doesn't own any tool other than craftsman.but now he loves this tool.Thanks MATCO for another great tool.
November 3, 2011
Money Maker!!
very powerful, convenient, and has a led that actually lights up your work area. i use this impact everyday and only have to charge it once every 2-3 weeks, takes less than an hour to charge. it WILL run strong up until the battery discharges completely. I do not regret buying this over the competition. love the fact that it comes with a universal charger, less clutter for when i buy that cordless 1/4" impact!!
September 3, 2011
great product
bought this to help out in the field when no air was available. i find myself using it all the time now even when air is available. great torque from a small and light tool. dont know what i would do without it now.
December 17, 2011
Best tool i've bought in years
I'm a 10 yr master harlesy davidson tech. Tool does everything you need it to. Should have bought one 10 years ago. Great tool.Long lasting battery. Best tool i've bought one years. Number one tool in my tool box.
December 7, 2011
Beats Snapon 3/8
Take wheels off and tighten them up no problem works great on many applications be carefull will snap bolts in half.
December 6, 2011
Best impact wrench ive bought no joke.
battery life is awesome, i use the impact almost every day and I charge the battery twice a month!! Ive bought others and they do not compare to this, also love the universal charger for matco cordless tools.
September 23, 2011
Favorite tool
It is lighter than other brands. LED light comes in handy. not as powerful as other brands but the other features makes up for it.
October 9, 2011
Top notch
I was never a huge fan of cordless impacts. This product has won me over due to it's awesome battery life and the amount of power such a compact unit puts out.
September 6, 2011