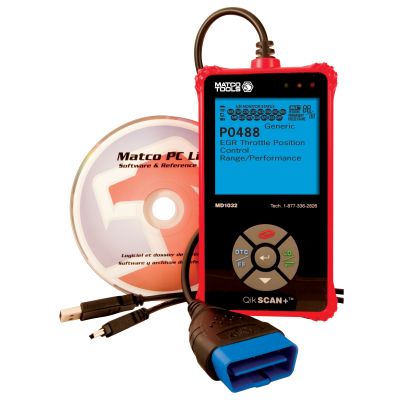 MD1032QIKSCAN +
MD1032 QIKSCAN + - Features & Benefits
Displays Enhanced OBD2 Live-Data (J1979 & J2190) with data graphing , OBD2 Mode 1 to 9 coverage
On screen code definition lookup library , Internet updateable and upgradeable , comes with access to optional online Repair Solutions and VIN specific fixes
Works on all 1996 and newer cars, light trucks, SUVs and minivans -- Domestic and Import , links to all OBD2 protocols including CAN, Keyword 2000, ISO 9142-2, J-1850 (VPW & PWM) to decode "Check Engine" light problems
2010 model year compliant with 15 monitor coverage. Will work on heavy duty and diesel vehicles
Diagnoses enhanced engine and transmission diagnostic codes - Erase button turns off 'check engine light'
Features unique patented all-in-one backlit screen display and 3 color LED display for quick State Emissions readiness check and drive cycle verification
Automatic refresh updates data every 30 seconds when connected to the vehicle - an easy way to verify repair completion
Includes Spanish and French Interface & Definitions (selected by a menu command)
Wont connect to obdii vehicle
new tool, out of the box will not connect to 1996 volvo 960. another code reader i have has no problem reading the codes and live data on the same vehicle using obdii connector. no upgrades available to fix the issue.
January 30, 2012
Cord too short!
I opened the box and the obdii cord was about 16inches long, totally useless. Gave it right back. I dont understand why the cords are so short on the scanners.
January 24, 2012
This scan tool is a time saver
This MD1032 quick scan tool can retrieve codes very quick. It allows you to see live data. It also performs additional functions such as evap leak tests and o2 sensor tests and non-continuous tests as well. You can see freeze frame data, monitor status. It also give more then a generic description of the code. The tool is very easy to use and it does everything I needed it to and more. Its a must have for anyone who is going to be doing any automotive work or car buying!! This WILL save you a ton of money!
October 17, 2011
SLOWWWWWW
Bought this scanner from my Matco dealer about a year ago, great for just pulling codes and erasing, but the live data is slow and not customizable, the Snap-on scanners are much better for the money.
April 24, 2012
Fast and very easy too use!
This product is great I recommend it. Its simple and fast.
August 20, 2012
User friendly, and the great tech support
after just two uses i found the QIKSCAN+ to be an excellently easy to use tool that actually does what they clam. With the live tech support there really isn't any issue that can't be taken on and completed.
December 19, 2011
Great, convenient tool, a MUST HAVE for any mechanic
This is a great tool that comes in handy in every aspect of being a mechanic, instead of troubleshooting, most of the time this tool helps you find the problem instantly.
December 6, 2011