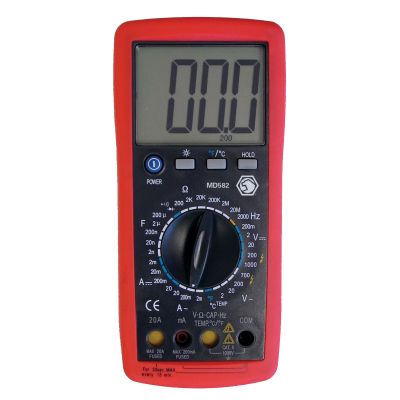 MD582DELUXE DIGITAL MULTIMETER
MD582 DELUXE DIGITAL MULTIMETER - Features & Benefits
The MD582 is a high perfomance digital multimeter designed for the professional technician
This unit features a huge 2 inch high LCD display with backlighting
Test functions include DC/AC volts, DC/AC amps, Ohms, Temperature in C and F, Frequency, Capacitance, Continuity and Diode Test
Use Frequency range to test MAF and MAP Sensors.
The MD582 also features a desireable 20 amp test range and Data Hold
This unique meter will stop test leads from being plugged into the wrong recepticals.
Includes: Test leads, Temperature Probe,
Detailed Specs
DC Voltage

0-200mV, 2V, 200V, 1000V

AC Voltage

0-2V, 20V, 200V, 700V

Amps

DC: 0-2mA, 20mA, 200mA, 20A
DELUXE DIGITAL MULTIMETER
3
3
Great product for everyday use.
Product is very well built and have had no issues or problems with it. Large display and back lighting is a great part of this meter. Would recommend to anyone that needs a daily use meter. Cheaper than Snap On for same quality of meter.
January 21, 2013
No Amps!!
this multimeter says in the description that one of the functions tests amps, although the multimeter itself does have an amp setting on it, the switch has some kind of lockout on it that will not allow you to switch to it.
November 14, 2011
Great meter for the price
The meter has all the functions that I need and reads the same as the way more expensive ones. Good value.
April 9, 2012